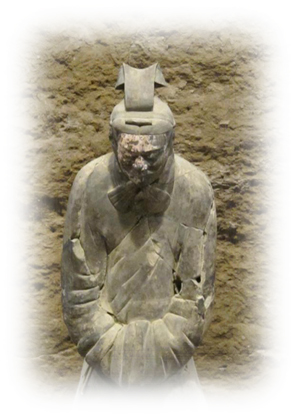 A company of Terracotta Warriors - most painted in rich colors - have been unearthed at the largest pit within the mausoleum complex of the emperor who first unified China. A total of 114 Terracotta Warriors have been found at No 1 pit, one of three, where excavation started in June last year, said Xu Weihong, head of the excavation team. A number of other relics including weapons, chariots, drums and painted wooden rings were also found during the excavation. The pits contain funerary objects for the mausoleum of Qin Shihuang, which is located some 1.5 km west of the pits. The clay warriors and horses are believed to represent the emperor's army.

Qin Shihuang (259-210 BC), known as the First Emperor of China, was the founder of China's first unified feudal empire, the Qin Dynasty (221-206 BC). The pit - located in Lintong district of Xi'an, capital of Northwest China's Shaanxi province - was discovered accidentally by farmers in March 1974. His mausoleum, discovered with more than 7,000 life-sized terracotta warrior statues, was later declared as a National Heritage site and a UNESCO World Heritage site. On Oct 1, 1979, the Museum of Qin Shihuang Terracotta Warriors and Horses was opened to the public. It attracts millions of visitors from home and abroad every year. Because of this new and startling discovery, two new museums of Terracotta Warriors have been opened to the public and its findings will be displayed to the public for the first time. The pits, coded K9901, are located on the southeast side of the Mausoleum of Qin Shihuang.

We at Great Wall Adventure Club are proud to include this in our series of tours in Xian. Through either a package or customized tour, you can come to Xian and see for yourself the wonder and majesty of the Terracotta Warriors. In addition to the Terracotta Warriors, Xian, the ancient capital of China, has some other wonderful sites to experience. A still standing city wall, a vibrant Muslim Quarter, the world renowned Shaanxi Museum, there are just some of the things that makes Xian a center for Chinese culture. Xian was once the end point for the iconic Silk Road, and ancient trading route that connected the east to the west. With a Silk Road tour, you can experience Xian and the more far-flung western regions of China, which feels more like the middle east than it does China.

If you're looking to experience adventure, excitement, while also learning about the soul of Chinese culture, than Xian is a wonderful place to start. The Terracotta Warriors are evidence of this, as it is one of the most spectacular man-made achievements in the annals of world history.

Signup for Xi'an Tour and see the famous Terra Cotta Warriors.