Nanjing (Nanking) City Tour Package
Nanjing Museum
Covering an area of 12.9 hectare, Nanjing Museum is situated inside the Zhongshan Gate of the Nanjing city from which it takes its name. It was originally established in 1933, proposed by Mr. Cai Yuanpei (a modern democratic revolutionary and educationist), and now numbers among its extensive collections some 2,000 first class treasures of national and cultural interest. Should you be fascinated by the long and cultured history of China, then this Museum is a 'must-see' for you. Let it be an absolutely indispensable part of your itinerary.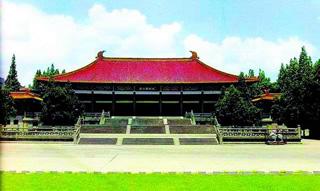 Valuable treasures:

The two main buildings, in a style of a blend of east and west, we find a veritable feast of historical and revolutionary cultural relics, paintings, calligraphies, and ancient books - some of them from abroad. Among them the most representative ones are a large number of porcelains from the palace of Qing dynasty (221 BC - 206 BC), and relics excavated from ruins of Shang dynasty (16th - 11th century BC).

The Basic Hall with its two stories, is mainly for the display of historical items, and is a building in the style of an ancient palace of Liao (916 - 1125). There are three special exhibition sections:

? The Five Thousand-year Civilization Panorama of the Lower Reaches of Yangtze River
? The Very Fine Display of Chinese History, People and Culture
? Jiangsu Archaeological Achievements Exhibition
This rich banquet in three courses attracts visitors from around China and the world in general.

Armchair and screen on display The Art Exhibition Hall, having three stories, lies to the west of the Basic Hall. It consists of 11 sections in all: 1. Bronze Ware hall, 2. Jade Article hall, 3. Painting hall, 4. Embroidery hall, 5. Pottery Ware hall, 6. Porcelain Ware hall, 7. Lacquer Ware hall, 8. Folklore hall, 9. Modern Arts hall, 10. Calligraphy and Painting hall, 11. Treasure hall.

A remarkable collection of some 30,000 calligraphy and painting masterpieces - including some from the Song and Yuan Dynasties are particularly to be admired. Other treasures such as ancient painted pottery wares, bronze wares of West Zhou dynasty (11th century BC - 771 BC) and Spring and Autumn period (770 BC - 476 BC), the jade suit sewn with silver thread of Eastern Han dynasty (25 - 220), and the gold beast of the Warring States period and so on are really worthy of our appreciation and study. Even the most uninitiated of visitors will be left speechless in the presence of such artistic beauty and richness.

Museum of rich activities: Not only is our Museum home to incalculable treasure of art and culture - it is also a venue for a rich variety of activities. Nanjing Museum is notable for holding special subject lectures. Further, it has arranged displays in countries as far apart as Japan and Germany. It encourages research in the fields of culture, folk customs, and traditions from other parts of China.
The Nanjing Museum's lecture series, for example, has attracted over 12,000,000 visitors from home and from abroad. And its exhibitions in other countries, has contributed in no small way to international understanding and co-operation in the interest of art and culture. Another particular activity is its research into our nation's customs and traditions. The Nanjing is the only museum to have a folk custom investigation organization. This makes it unique among the museums of China.

Nanjing Museum has been regarded as one of the most advanced and popular among museums of its class in China, and an important educational base for students.