Nanjing Aqua City
Enjoy a convenient location in the heart of Nanjing's Xinjiekou Central Business District at the high-rise Holiday Inn Nanjing Aqua City.
You'll receive a warm welcome from our friendly Front Desk staff beneath the sparkling chandeliers in Holiday Inn Nanjing Aqua City's elegant Lobby. We're a 3-minute stroll from the Confucius Temple and you can shop, dine and catch a movie at Nanjing Aqua City mall, which adjoins the hotel. Book one of our smart Executive rooms to enjoy complimentary breakfast and evening cocktails in the exclusive Executive Lounge.
Doing business is easy with our extensive meeting facilities and Business Centre. There's space for 600 in the stately ballroom and we have 5 high-tech meeting rooms for more intimate gatherings. Holiday Inn Nanjing Aqua City is 10km from businesses in Jiangning Development Zone and 35 minutes by taxi from Nanjing Lukou International Airport.
Colourful Chinese lanterns are sold at Confucius Temple, located by the tranquil Qinhuai River, a short walk from the hotel. Unwind after your day's sightseeing with a relaxing swim in Holiday Inn Nanjing Aqua City's indoor pool or a workout in the Fitness Centre.
You can indulge in a soothing massage or facial treatment in our calming Tea Tree Spa. See sizzling Asian cuisine being prepared in our show-kitchen at Feast Restaurant and spend an evening mingling over drinks in the sleek Fun Bar.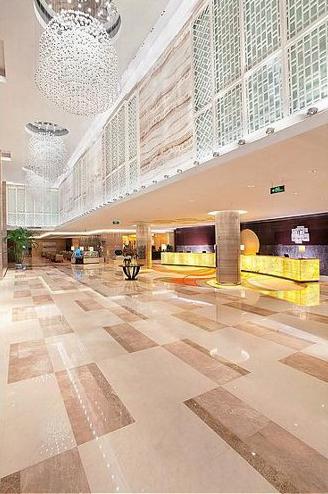 Pay homage to the legendary Chinese sage at the Confucius Temple, 3 minutes' stroll from the hotel. Students traditionally visit the temple to pray for exam success amid beautiful jade panels that illustrate the story of Confucius's life.


Must Do:

Take the cable car to the top of Purple Mountain for a breath of fresh air and panoramic views of the city and surrounding countryside. The forested hill is in eastern Nanjing, 30 minutes by taxi from Holiday Inn Nanjing Aqua City.



What's New:

Indulge in some serious retail therapy at Nanjing Aqua City mall, which adjoins Holiday Inn Nanjing Aqua City. You'll be spoiled for choice with fashionable shops and restaurants selling international food, as well as a cinema and rooftop garden.



Don't Go Home Without:

Visiting the magnificent UNESCO-listed Ming Xiaoling Mausoleum at the foot of Purple Mountain. Huge stone elephants and lions line the sacred path and are said to guard the final resting place of the 14th-century Ming Dynasty emperor and his family.



Tips:

If you're sightseeing around Nanjing, ask our friendly Concierge to write down the address of your destination in Chinese characters. You can show this to non-English speaking taxi drivers to avoid getting lost in translation.





NANJING TOUR PROGRAMS



Choose your Nanjing tour with Holiday Inn Hotel and sightseeing to save more. Learn more about Nanjing City Tour programs.