Lijiang

Jade Spring Park


Heading north along Square Street of Lijiang Old Town, you reach Heilongtan Pool (Black Dragon Pool) at the foot of the Elephant Hill. The pool is also called Jade Spring Park, reflecting its endless bubbling clear spring waters.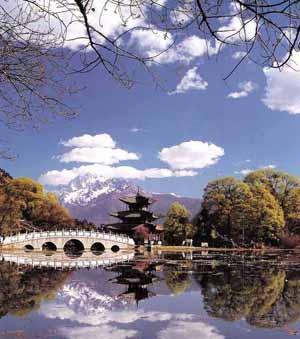 The Heilongtan pool is enormous, with an area of 40 hectares (over 430,000 sqft), and it provides a haven for bird and water-life, with spectacular plants. Surrounding the pool, within the park's landscape, are ancient monuments such as the Longshen Temple, the Deyue Pavilion, the Suocui Bridge and the Hanyue Stage.

The arrival at the park is along a colored cobbled lane to reach a white marble bridge over emerald water: the Suocui Bridge. To your north, weather permitting; you might see the Jade Dragon Snow Mountain with its white snow, the source of the Jade Spring and its famous white clouds. The Deyue Pavilion rests at the center of the lake, on the same axis as the Hanyue Stage. At the gate, there is a pair of couplets inscribed by the famous Chinese writer Guo Moruo.

The Longshen Temple is the impressive centerpiece of the park. It consists of a gatehouse with two wings and a great hall. 'Longshen' means Dragon God in Chinese, the God of Rain in Chinese mythology. The temple was built during Emperor Qianlong's reign in 1737, and was conferred the 'Longshen' accolade by the Emperors of the Qing Dynasty (1644 to 1911); this title reflected the high esteem of the Heilongtan Pool.

Every March, when the weather is delightful, the local community gathers at the Dragon God Temple to pray and seek blessing. The emerald spring waters are famous for their curative powers, whether for stomach troubles or to enhance your complexion.