About nine miles from Shanhaiguan Pass, in Suizhong County, Liaoning province the grand wall spans the about 100-meter (0.06-mile) wide Jiujiang River. It is the Jiumenkou Great Wall.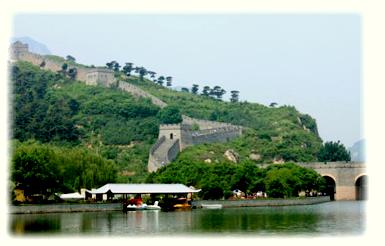 This section of Great Wall was first built in Northern Qi Dynasty (479 - 502) and was an important military pass over a long period of time. It was rebuilt to a larger scale in the Ming Dynasty (1368 - 1644). The southern end of the wall starts from lofty mountains, connecting to the section of the wall running from Shanhaiguan Pass. It climbs along the mountain ridge till finally arriving at the banks of Jiujiang River. The wide river doesn't stop the wall's resolute pace forward. A huge wall bridge stretches over the river, forcing its way to the north.
The most significant part of Jiumenkou Great Wall is the section above the river. Seven hundred thousand hectares of rectangular stone slabs are embedded on the bed of the Jiujiang River, and the stones are held down by iron chain, which creates a historically famous sight of white stones. Nine arches standing above the stones serves as sluiceways, hence, the wall is called 'Jiumenkou', 'Nine Gateways' in English. The wall bridge is constructed over the arches connecting the two banks of the Jiujiang River. Two walled cities, both used as fortresses, are erected at both ends of the wall.
There are 12 watch towers, two sentry posts, two beacon towers, and ditches in the 1.2 miles of the Jiujiang Great Wall - a really complete military defense work.
Tips: The best time to visit Jiumenkou Great Wall is from May to Oct. It is extremely cold in the rest of the year. You can purchase special local products near the Great Wall. There are many delicious foods, such as at Old Lady Liu's Restaurant, The Wang's Restaurant of Simmering Bones in Soy Sauce. The local snacks are also very delicious, especially wheat products.

Let's take a tour to Jiumenkou Great Wall!

2-day hiking from Laolongtou (Old Dragon's Head to Jiumenkou to Huangtuying)


3-day Great Wall hiking program from Laolongtou (Old Dragon's Head to Jiumenkou)

BACK TO Great Wall Hiking and Tours
Copyright 2021 The Great Wall Adventure Club (Beijing), a North America Commerce International (NACI) company.?