Beijing to Xian Train Tour
Other related tours to Terracotta
from Beijing by sleeper train,
bullet train or flight.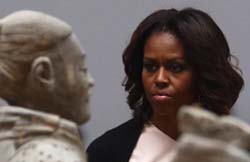 Z19/T43, Soft-sleeper Train to Xi'an &
Z20/T44, Soft-sleeper Train to Beijing
1. The overnight sleeper train is NOT a bullet train. It is a regular express train. It leaves Beijing at 20:43 and arrives in Xian at 7:58, so it is 11 hours and 15 minutes.
2. We will only place you in a private compartment for two berths with private bathroom. These are called deluxe compartments available at higher price for USD135/ticket. Private half-bath is only available in deluxe compartments. Regular compartment has NO private bath and contains four berths, so you will share the bathrooms with others in the same carriage..
3. There is no delay under most weather conditions. Chinese trains are run on time perfectly.
4. Passport photocopy is required to book a ticket.
5. Advanced ticket booking is required.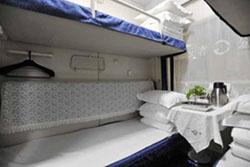 Z19/T43 Overnight Train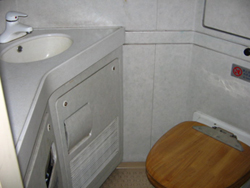 Private Half-bath in Deluxe Compartment
Beijing-Xian One Day Overnight Sleeper Train Tour
Highlights:
•Visit the Terracotta Warriors and Horses Museum, the greatest archaeological find in recent memory
•Explore the famed Muslim Quarter, home to Xian's large Muslim community, which featuring shops, markets, and bazaars, giving you a taste of the middle east in China

(B=breakfast, L=lunch, D=dinner)

Package Price

Price is based on the time of travel and number of customers. Please inquire through the form on the left side of the page, we'll quote the best price we can get. As this tour package involves domestic transfers, the package price will vary from time to time because of the changing airfares and hotel rates.
TOUR ITINERARY

Tour code:


XA-Z19Z20

Day 1 : Beijing-Xian by overnight train Z19 (20:43-next day 07:58 am) or T43 (19:50-next day 8:34 am)

You'll take a taxi to Beijing West station where will you will catch the overnight train to Xian. You will have a soft sleeper room, where the either train has 4 people sharing one cabin and the T43 has or 2 people sharing a luxury cabin and private bathroom. You can decide which type of cabin you will choose (Private cabin is twice the price of shared cabin). You will arrive the next morning in Xian, China's ancient capital and home to the Terracotta Warriors.

Day 2 :Xian-Beijing by overnight train Z20 (19:55-next day 07:10 am) or T56 (19:00-next day 8:29 am) (B, L, D)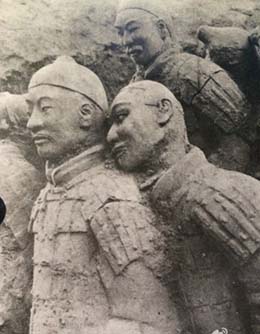 Upon arrival at the Xian train station you will be met by your travel guide and you will be taken to a local restaurant for a hot breakfast.

We'll then drive an hour outside the city to see Xian's greatest attraction, and one of the greatest sites in all of China, the Terracotta Warriors and Horses Museum. The Terra Cotta Warriors and Horses Museum is the result of the most significant archeological excavations of the 20th century. Work is ongoing at this site, which is around 1.5 kilometers east of Emperor Qin Shi Huang's Mausoleum. Upon ascending the throne at the age of 13 (in 246 BC), Qin Shi Huang, later the first Emperor of all China, had begun to work for his mausoleum. It took 11 years to finish. It is speculated that many buried treasures and sacrificial objects had accompanied the emperor in his after life. A group of peasants uncovered some pottery while digging for a well nearby the royal tomb in 1974. Life size terracotta figures of warriors and horses arranged in battle formations are the star features at the museum. They are replicas of what the imperial guard should look like in those days of pomp and vigor.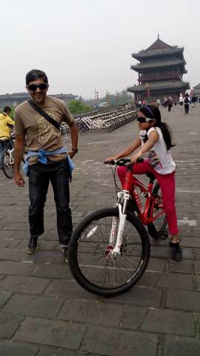 Following a Chinese lunch will drive back to the city for more of your Xian tour. Will first go to the the Big Wild Goose Pagoda, a pagoda surrounded by a still functioning Buddhist temple (named Da Ci'en Temple). The Big Wild Goose Pagoda is one of the most famous Buddhist pagodas in China. The Pagoda was built in the Tang Dynasty (618-907) for the study of Buddhist scriptures. Although it has been attacked by centuries of weather, war and seismic activity, which destroyed most of the original material of the structure, a pagoda by this name and style still exists on the site.

You'll then get a chance to walk or take a bike ride around Xian's still functioning City Wall. Xian is one of the few Chinese cities that still has its city wall intact. Xian has one of the largest Chinese Muslims populations, and we'll cap off your time in Xian with a walk through the Muslim Quarter. Near Xian's historic Drum and Bell Towers is the famous Muslim Quarter in Xi'an. Here you can find many Muslim restaurants and food stands, and shops selling traditional handicrafts. Almost all the local food and snacks are also available at the Muslim Quarter.

For dinner, you will enjoy a splendid dumpling banquet of all shapes and sizes in downtown Xian, and afterwards you will be taken to the train station where you will make the ride back to Beijing. You will have a soft sleeper room with choice of shared cabine or luxury cabin.

Day 3 : Arrive in Beijing

After arriving back in Beijing you'll take a taxi to go back to your hotel, thus ending your tour.
Learn details of the one-day tour, please visit One-Day Tour page.
To Compa
re the difference above two express tours, please visit the Xi'an Express Tour pages.


Other travel options and tour programs about Xi'an from Beijing or Shanghai.

* Beijing-Xian One-day Train Tour
* Beijing/Shanghai-Xian One-day Flight Tour
* Beijing/Shanghai-Xian Two-day Flight Tour