Zhouzhang is known as the Venice of the East. It is the most famous water town in China. Situated only 30 kilometers (18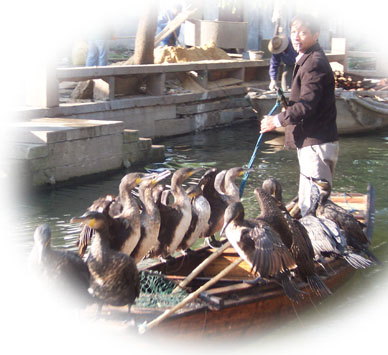 miles) southeast of Suzhou and is noted for its profound cultural background and the well preserved ancient residential houses. This ancient town has a history of more than 900 years with many houses built in the Ming and Qing dynasties. There are about 100 houses with courtyards, and 60 of them have arch gateways made by carved bricks.
Zhouzhuang is surrounded by four lakes and the most spectacular of this are the water lanes and the stone bridges, mostly constructed during the Yuan, Qing and Ming dynasties.
Zhouzhuang actually means the town of the Zhou family. Many of the houses here are open to public and you can see how the ancient people of China lived their everyday lives. This town is preserved very well and there are much to learn and see in Zhouzhuang.
One of the most famous houses here is the Shen House built in 1742. Over 100 rooms are divided into three sections and each one is connected by arcades and aisles. The house was built by a millionaire merchant, who made his fortune from the silk trade. Here you will be able to see the Qint's style complex which consists of several buildings and rooms connected to each other for different purposes, such as family visits, business meetings, the daughter's room and the family room. You will also be able to see the ancient safe where the owner hid his grand fortune in.
Back on the water lane there are many places to stop and enjoy. The double bridge, which from an angle looks like a dragon. It is two stone bridges that is connected at a corner of the street. There are many stone bridges here and all are unique features. Another famous sight is where you can see a bridge under a bridge, because of the distance you can see one bridge under an another.

Back to the Shanghai Expo tour packages that includes Suzhou.