Luoyang Tour of Yellow River Xiaolangdi Scenic Area
Lying in Mengjin County 40 kilometers (about 25 miles) north of Luoyang City, Henan Province, Xiaolangdi Scenic Area is located in the exit of the last gorge in the middle reaches of Yellow River.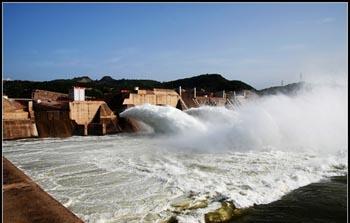 The Xiaolangdi Multipurpose Dam Project has become a dominating feature of this stretch of the mighty river and the three gorges to be found here are a major attraction.

Xiaolangdi Multipurpose Dam Project:

The Dam Project is an eye catching feature of the whole scenic area. In total the cost of the project has been RMB 42 billion and it is not only a milestone in the history of the continuing effort to tame the Yellow River, but it is also a masterpiece in the history of world hydro-engineering. It creates three firsts in the world and six firsts in China. This vast record breaking construction is 1667 meters (about 1823 yards) long with a height of 154 meters (about 500 feet). The whole project consists of ten intake towers, nine flood and sediment tunnels, six power tunnels and an underground powerhouse. The main objectives of the project are: flood control, ice jam control, siltation control, irrigation, water supply, as well as hydroelectric power generation. Following the completion of the project a vast reservoir covering 272 square kilometers (about 105 square miles) has been formed above the dam. The views across this vast shimmering man-made lake surrounded by towering mountains are amazing.

Tour Luoyang with Great Wall Adventure Club, the best Luoyang tour agent to help you with your hotel booking and transfers.