Luoyang Tour of Longmen Guanlin Temple
Guanlin Temple, about seven kilometers (about 4.5 miles) south of Luoyang City, was built in 1596, during the reign of Emperor Wanli in the Ming Dynasty (1368-1644) and was expanded in the Qing Dynasty (1644-1911). It is called General Guan's Tomb as well.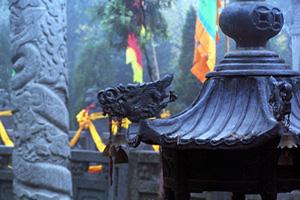 Guanlin Temple is the place where Guan Yu's head was buried. So, are you wondering about who Guan Yu is? He is a hero in Chinese history and is the only person respected by Confucians, Buddhists and Taoists. Guan Yu was a general of the Kingdom of Shu during the Three Kingdoms Period. After he was murdered by people of the Wu Kingdom, his head was sent to Cao Cao in order to frame Cao Cao and start a fight between the Shu Kingdom and the Wei Kingdom. However, Cao Cao discovered their plot. Due to his great respect for General Guan Yu, Cao Cao had Guan Yu's body carved from eaglewood and buried the carving and the head with great honors outside the South Gate of Luoyang City. Emperors of succeeding dynasties all revered Guan Yu a lot and even worshiped him as God of War. As a result, the temple in Luoyang is splendid and grandiose.

The temple covers an area of 100 mu (about 16.5 acres). Inside the temple are halls, tablets, small stone lions and cypress. The layout of the temple highly embodies the traditional style of Chinese architecture. It is designed and built symmetrically. Moving north from the Opera tower, there is the Main Gate, the Courtesy Gate, the First Hall, the Second Hall, the Third Gate, and the Tomb of Guan Yu. The First Hall is most magnificent. On its main gate are a series of reliefs telling the well-known stories of Guang Yu. The views from other halls and places inside the temple are also beautiful.

An art gallery was also built inside the temple, displaying a collection of nearly 2000 ancient steles, epitaphs and stone inscriptions. They are really helpful to the research of ancient Chinese history.

Tour Luoyang with Great Wall Adventure Club, the best Luoyang tour agent to help you with your hotel booking and transfers.