Luoyang Tour of Fengxian Temple
Fengxian Temple was built The statue of Vairocana Buddha, Fengxian Temple, Longmen Grottoesin the Tang Dynasty and it is the largest grotto in Longmen Temple with a width of 36 metres (about 118 feet) and a length of 41 metres (about 136 feet). There are nine major figures of various facial appearances and temperaments in the temple that were built in accordance with the Buddhist rite and their relationships by the artists.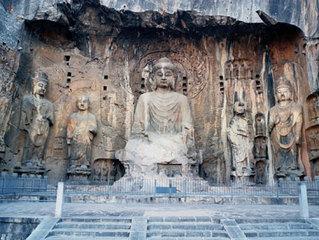 The most impressive figure is the statue of Vairocana Buddha sitting cross-legged on the eight-square lotus throne. It is 17.14 metres (about 56.23 feet) in total height with the head four metres (about 13 feet) in height and the ears 1.9 metres (about 6.2 feet) in length. Vairocana means illuminating all things in the sutra. The Buddha has a well-filled figure, a sacred and kindly expression and an elegant smile. According to the record on the epigraph, the Empress Wu Zetian together with her subjects took part in the ceremony of Introducing the Light (a Buddhist blessing that the Buddha opens the spiritual light of himself and shares it with others).

At the sides of Vairocana there are two statues of Vairocana Buddha's disciples, Kasyapa and Ananda, wearing prudent and devout expressions. The figures of Bodhisattvas and devas can also be found in the temple. Some have dignified and genial expressions, while others are majestic and fiery. The various appearances and delicate designs are the representations of Empire Tang's powerful material and spiritual strength as well as the high crystallization of people's wisdoms.

Tour Luoyang with Great Wall Adventure Club, the best Luoyang tour agent to help you with your hotel booking and transfers.