Luoyang Tour of Bai Garden
The Bai Garden is situated on the Pipa Peak, 12 kilometers (about 7 miles) away to the south of Luoyang City. This garden was constructed based on the tomb of the well-known poet Bai Juyi. Bai Juyi (772-846), born in Henan province, was a famous Chinese poet in the Tang Dynasty (618-907), who shouldered important official positions during his life. As a poet, he left behind a vast collection of poems, most of them highly regarded for their quality both in content and choice of words. This garden was built in 1985 to commemorate this great poet in Chinese history. With an area of 44 mu (about 7 acres), it almost takes up the entire Pipa Peak. Taking the tomb as center reference, the Pipa Peak comprises of three scenic areas: the Green Valley Area, the Tomb Area and the Poem Corridor Area.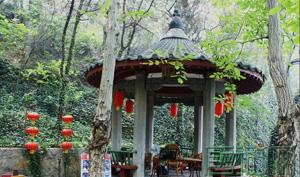 Upon entering the garden, one steps into the Green Valley Area. Along both sides of the path, groups of green bamboos display tranquility but also demonstrate vigor. Pavilions in the architecture style of the Tang Dynasty dot the garden, while the pool with its blooming lotuses betrays a charming picture. In the simple but elegant Letian Hall ('Letian' being the nickname of Bai Juyi), stands the white marble statues of Bai Juyi revealing a sense of pizzazz.

On the top of the Pipa Peak, it is the Tomb Area which forms the center part of this garden. Surrounded by the deep green pines and cypresses, the vaulted tomb seems solemn. Overlooked in a higher place, the Tomb Area appears like a lute. Around the tomb, various flowers and trees are planted in a splendid design.

Down to the north side from the top, one will come to the Poem Corridor Area. Here, nearly one hundred pieces of steles carving with the masterpieces of Bai Juyi are inlayed in the corridor. Those works are in various styles of Chinese calligraphy and most of them are the works of those famous calligraphers and painters in modern times. The story of his life could also be seen here.

Bai Garden, with the charming and poetic sceneries, not only offers a beautiful landscape garden for people, but also serenades the unusual lifetime of Bai Juyi.

Tour Luoyang with Great Wall Adventure Club, the best Luoyang tour agent to help you with your hotel booking and transfers.