Known as 'the paradise of shoppers', Hong Kong is famous for its fast developing economy. Visiting this modern metropolis, you could feel its vibrancy and have a good understanding of the local culture. In Hong Kong, there are many prosperous areas, and among them, Tsim Sha Tsui, located in the south of Kowloon Peninsula, Hong Kong, is one of the most famous.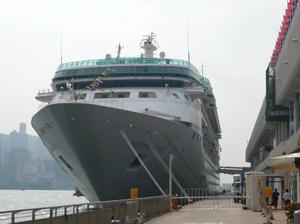 As one sentence describes, Tsim Sha Tsui is a concentration of stores, shopping malls, restaurants and office buildings. Whenever you walk in the street, you will be confronted by heavy traffic and the crowd of citizens and tourists. But everything is very orderly.

Nathan Road is the leading road of Tsim Sha Tsui. Meanwhile, other streets radiate from there. Many international brands are grouped in those streets. Especially, the Park Lane Shopper's Boulevard which is intended for shopping, and young people like to roam there to buy some fashionable clothes. For those tourists who like to buy cosmetics, going to the cosmetic stores in Granville Road and Harbor City will bring them more surprise.

Also you can have a full vision of the Victoria Bay in this area, and the recommended attractions are the Avenue of Stars and Tsim Sha Tsui Beach. The Avenue of Stars was designed according to the one built in American Hollywood. The list of honored stars of Hong Long was inlaid into the surface of avenue. The Tsim Sha Tsui Beach seems more charming in the evening. Varied neon lights mingle together to make the night become another colorful world.

Additionally, the Hong Kong Museum of Art, the Hong Kong Space Museum and the Cultural Center lie here. All those things make Tsim Sha Tsui be an area of entertainment, shopping and education. So the tourists to go to Hong Kong should not miss visiting here.