Named after Tin Hau Temple, Temple Street is located at Yau Ma Tei, Kowloon and is a Hong Kong famous open-air night market.

Temple Street is well known partly due to the many Hong Kong films set here, including 'The Prince of Temple Street', 'The Mean Street Story', and 'God of Cookery'. Although the street in the film is often portrayed as the home of underworld figures and prostitutes, Temple Street exudes a joyful and welcoming feeling for stall-keepers and tourists. It is known as 'the Night Club of the People'.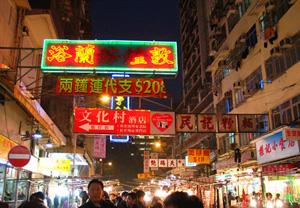 Temple Street is also often referred to as Men's Street as the area formerly specialized in selling items for men. Nowadays, almost any item can be found here and the street really comes to life after dark. Hundreds of peddlers appear after sunset along with visitors and customers looking for a good deal. Inexpensive items in the market include electronic products, clothes, jade articles, coins, toys, CDs, music boxes, lighters, ties, jeans, T-shirts, Western-style clothes and leather wares, among others. Visitors often find great buys at bargain prices. The market extends 600 meters (656 yards) along both sides of the road.

Beyond shopping, the market provides entertainment in the form of fortunetellers and traditional Cantonese opera singers. Fortunetellers reveal both the past and future paths of individuals and charge from HKD20 to HKD300. Fortunetellers often speak Chinese, Cantonese, and several languages from English, French, Japanese, Thai to Guilin Dialect and Chaozhou Dialect. The amateur street singers also do their utmost to attract audience. Singers will ask for money after one or two songs.

The street is home to Chinese delicacies-make sure to visit the restaurants and Dai Pai Dong to sample the local favor. The Wonton Noodles, the Clay Pot Rice, Beef Balls and Fish Balls are all worth their weight in gold and they represent Hong Kong's unique food culture.

A visit to Temple Street will offer you a memorable evening experience in Hong Kong.