Located in the central zone of Tsim Sha Tsui in Hong Kong, Kowloon Park is one of the largest parks in Kowloon, covering an area of about 13.5 hectares (about 33 acres). It is said to be the 'green lung' at the centre of city.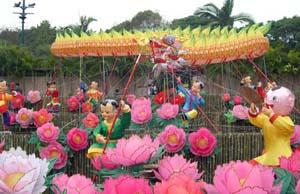 The park was opened by the then Governor, Sir David Trench on June 24th. In 1989, it was rebuilt, funded by the former Royal Hong Kong Jockey Club at a cost of about HK$300 million.

The park was built in a classical Chinese style, and is visited by many tourists. Flowers and trees are plenty in the park. There are an attractive variety of rarely seen beautiful birds and flowers.

The park boasts an abundance of scenic spots and enough establishments for tourists to enjoy themselves. The scenic spots mainly include the Maze Garden, Color Garden, Chinese Garden, Roof Gardens, Banyan Court and Bird Lake. And the establishments comprise a mini soccer pitch, the Fitness Trail, Children's Playground, Discovery Playground, Sculpture Walk & Sculpture Garden, a piazza, an aviary, a swimming pool and a sports center. The swimming pool is one of the best equipped in Hong Kong and can hold 1,500 people.

From 07:30 to 09:30 on Fridays, the park provides the activity of watching birds for tourists free of charge. The gathering point is at the arcade of the park. And from 14:30 to 16:30 on Sundays, there are free performances on the Sculpture Walk, including lion/dragon dance and different disciplines of martial arts. Additionally, from 13:00 to 19:00 on Sundays and public holidays, at the loggia of the park exit, there are many stalls selling Chinese traditional handworks, calligraphy and many other souvenirs.

Next to the park is the Park Lane Shopper's Boulevard,, which imitates the American style. The shops there mainly sell the clothes from the native or abroad, which are very popular with the young people. After shopping, you can go to the park and find a comfortable place for a rest.