Hong Kong Wetland Park is located in the north of Tin Shui Wai, the New Territories. The site of the park was initially intended for an ecological mitigation area to make up the lost wetlands during the urbanization process of Tin Shui Wai. In 1998, the Agriculture and Fisheries Department and Hong Kong Tourists Association did a research on whether a wetland tourist attraction can be built in Tin Shui Wai. Finally, they came to the same conclusion and decided to build a wetland park there but not to weaken its ecological mitigation function. Now, the Wetland Park has become a renowned nature reserve with educational and tourism value.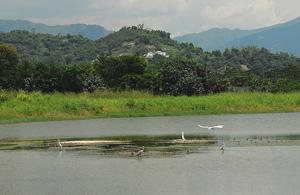 The park includes a 'Wetland Interactive World' of about 10,000 square meters (0.25 acres) and over 60 hectares (148 acres) of wetland for wildlife. The Wetland Interactive World is made up of five exhibition galleries, a projection room, a souvenir shop, a dining room, an indoor play area and a resource center. The five exhibition galleries focus on different themes and showcase the importance of wetlands on biodiversity, civilization and conservation. The wetland reserve comprises an area of man-made wetland and a habitat specifically intended for waterfowl and other wildlife. In the area of man-made wetland, you can have a close view of various fish, water birds and many other interesting living things.

The park attaches much importance to environmental protection. Through various meaningful exhibitions and your personal experience, you can learn a lot about wetland and wetland protection. At the same time, the beautiful scenery in the park will bring you much enjoyment. The park puts the Volunteer Scheme into practice. Some nature lovers are willing to be the volunteers to participate in the protection of the wetland. These volunteers not only play an important role in the protection of the wetland but also propagandize the environmental protection in the society.