The low-lying area located between Wan Chai and Causeway Bay is the famous Happy Valley, where the people of Hong Kong gather to enjoy the excitement of horse racing and maybe gambling on the races.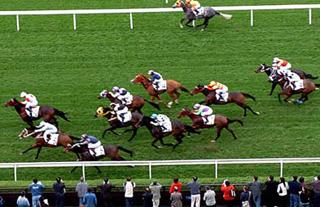 One of the oldest and the most famous architectural sites in Hong Kong, Happy Valley Racecourse was founded in the mid 1840s. The area was formerly a piece of marshland but following extensive reclamation, the first horseracing was held here in 1846. Evening meetings occurred in 1973 and in 1978; Hong Kong's second racecourse was created in Sha Tin in the New Territories. Hong Kong is now recognized internationally as a racing venue and is a favorite spectator sport among Hong Kong residents, many of whom like to have a flutter on the horses.

The yearly racing season runs from September to the following June, when two weekly meetings are held. One is on Wednesday evening, and the other on either Saturday or Sunday afternoon. Entrance to the public enclosure is just HK$10. For those who do not wish to make their own arrangements it is possible to join parties organized by the Hong Kong Tourism Board.

Happy Valley venue, which can accommodate up to 35,000 race-goers has advanced tracks, giant computer screens and other modern facilities. Needless to say, spectators are reminded that it is forbidden to use flash photography as this has an adverse effect on the horses and their performance. Audiences can view the race card and betting information on the giant screens. Mere words cannot describe the spectacular and exciting scene at these races, something that most visitors to Hong Kong would be loath to miss.

Hong Kong's Horse Racing Museum is also located here; this tells the interesting history and anecdotes of Hong Kong horse racing, and there are exhibits of various harnesses.

What's more, this racecourse is also an ideal venue for large-scale activities and it also offers a high quality service for visitors. So, do not hesitate to have a visit here.