10 kilometers (approx. 6.2 miles) southwest of Hong Kong Island lays the Cheung Chau Island. Although it is only a small area, it has a comparatively large population of more than 20,000 people. The residents live mainly in the middle part of the island where the land is low. Because this little island is shaped like a dumbbell - large at its two ends and narrower in the middle - it is also named 'Dumbbell Island'.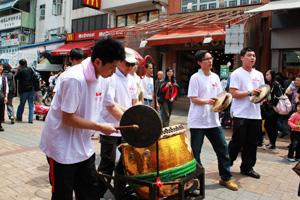 Cheung Chau Island has been a fishing village since the Ming Dynasty (1368-1644). All day long the ports are busy with the comings and goings of the fishing boats. In the evening, the port is awash with the soft light of the setting sun. Wherever you look, day or night, you are seeing a beautiful picture. The island is peaceful and moves calmly through each day, providing tourists a pleasant place to escape from the hustle and bustle of city-life.

Like most islands, recreation is easily found on these luscious beaches and along the baysides. Two very notable beaches are Tung Wan Beach and Kwun Yam Wan Beach. Tung Wan Beach is the surfside bathing area and features lovely cabarets and wonderful tourist residences. Kwan-yin Wan Beach is known for its aquatic sports recreation areas. Both of these beaches are main attractions for the tourists who flock here in great numbers in summer.

Perhaps the best scenic viewing spot on the island is the Beitiao Pavilion. This pavilion is uniquely designed and allows visitors a complete island view. Tired of luxurious beach and cabaret life? Take a walk in the interior which is filled with lush, green foliage.

On the southwest tip of the island is Cheung Po Tsai Cave. Ancient legends say that it used to be the place where Cheung Po Tsai, a pirate with an ill reputation, hid the money he robbed. Many people, flashlights in hand, visit this cave every year. Perhaps one day, someone will discover Cheung Po Tsai's treasure!

Want to take part in a glorious, joyful festival? Come on April 15th and 16th (dates are according to the Chinese calendar so double check each year), for the Cheung Chau Bun Festival. In ancient times, a devastating epidemic attacked the people of the island, who held the first Bun Festival in an attempt to clear their little homeland of disease. The epidemic suddenly disappeared and ever since the festival is held every year. It is a large-scale traditional festival attracting a large number of tourists because of the large parade and ongoing celebrations that fill all the streets and alleys.

How do you get to this wonderful little island? Take a ferryboat from the Zhonghuan wharf to Cheung Chau. This hour-long trip is a gentle bridge from one world to another.