If you shop and entertain in Hong Kong, do not miss Causeway Bay. Causeway Bay was a shoal more than a hundred years ago. After reclamation it was earth-based and gradually became a commercial area with an interconnecting road system. Now, it serves as a very popular center for shopping, dining and nightlife in Hong Kong.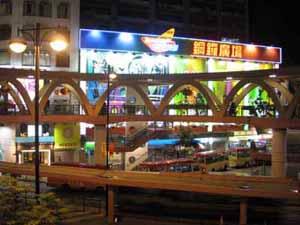 If you are interested in shopping, the ultra-modern Times Square, the Japanese department stores and the fashion boutiques should not be missed. Times Square, a symbol of Causeway Bay, is the biggest emporium in this area and one of the top ten scenic sites in Hong Kong. Many well-known brands of clothing can be found here. It is also the perfect place to hold large-scale activities. Every year on New Year's Eve, the New Year Countdown Ceremony is held here, and hundreds of thousands of locals participate. Lee Garden is another shop which is renowned for its luxury brand name clothing. It is also a place frequently visited by celebrities. The City Trade Centre is a favorite shopping venue for office workers.

Although Causeway Bay is famous mainly for stocking luxury brands, reasonably priced items can also be found here. The stalls in Jardine's Bazaar where fashionable costumes and accessories are sold at normal prices are also very popular.

You can fully enjoy Hong Kong style snacks and seafood in Causeway Bay. Most of the shops and restaurants here stay open until late when the area becomes a colorful world flashing with neon and crowded with people. It is a favorite activity to take a boat or sampan and sail around the harbor, enjoying the beautiful evening and the delicious food.

The famous Victoria Park, located in the eastern part of Causeway Bay, is the biggest park in Hong Kong. It features a modern swimming pool, tennis courts, football field and other sports facilities. A statue of Queen Victoria is located near the entrance of the park. The largest-scale Lantern Festival is held here every year and this park is also a perfect site to enjoy the moon during the Mid-autumn Festival.