On one of the southern tips of Hong Kong Island, Aberdeen is the largest satellite town with a population of about sixty thousand. It was a pirates' den two centuries ago and later turned into a simple fishing village. In recent years, with local high-rise building developments, Aberdeen has modernized, and now it becomes a vibrant waterfront resort for people from metropolitan Hong Kong.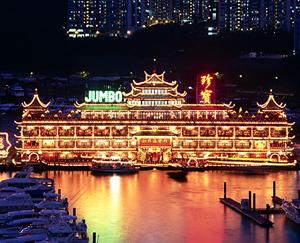 Despite modernization, traditional fishing life still prevails. Especially, in Bei Fung Tong Typhoon Shelter of Aberdeen, hundreds of junks and sampans, old-fashioned boats serve as floating homes for thousands of people. They crowd in the narrow harbor, dramatically juxtaposed against a modern high-rise building that spreads up the nearby hillsides. If you were lucky, warm-hearted fishers would invite you onto their dwellings, from where you can glimpse the life of the boat people. If no invitation forthcoming, you can always take a sampan ride yourself. But do place caution and safety first. You should take rides only with licensed operators.

Besides experiencing the traditional life of boat-dwellers, you may also try the Jumbo Floating Restaurant and enjoy the tasty seafood here. Two magnificent floating restaurants, namely Jumbo and the Tai Bak seafood boats are available. They are anchored in the Aberdeen Harbor, where guests can take a free ferryboat shuttle to reach them for a feast of delicious seafood.

In Aberdeen, you may go to visit Aberdeen Country Park or Aberdeen Promenade. The Country Park has an area of about 423 hectares (1,045 acres). It's one of the country parks that Hong Kong developed in the earlier period. The Promenade neighbors on Aberdeen Wholesale Fish Market on the west and Aberdeen Squash &Tennis Center on the east with a total length of around 800 meters. The Promenade provides the open-air plaza, children's playground, basketball ground and many other facilities. Along the seashore of the Promenade, there are a few of piers, which offer the ships to Ap Lei Chau and the outlying islands. The ferryboats to Jumbo also anchor there.