Chongqing City Tour Packages
Yangtze River Cruise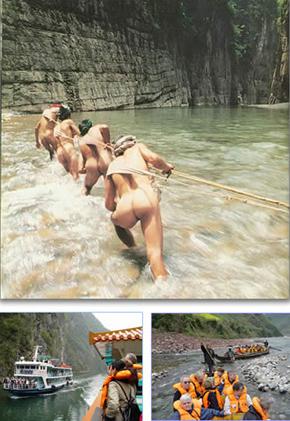 Winding about 3,964 miles, Yangtze River is the largest in China and the third largest in the world after the Nile in Africa and the Amazon in South America. Originating from the Tanggula Range in Qinghai Province in western China, it traverses eleven provinces and cities from west to east, including Qinghai, Tibet, Sichuan, Yunnan, Chongqing, Hubei, Hunan, Jiangxi, Anhui, Jiangsu and Shanghai. Finally it pours into the East China Sea at Shanghai.
Acting as the largest water system in China, the Yangtze River is historically, economically and culturally important to the country. It has numerous tributaries including Min River, Han River, Jialing River, Gan River and Huangpu River etc. The Three Gorges Dam on the river is the largest dam project and hydro-electric power station in the world. Generally, people consider the river a dividing line between North China and South China. Areas to the north and the south of the river have many differences in climate, scenery, economics, culture and folk customs.
Yangtze cruises between Chongqing and Yichang/Wuhan/Shanghai are frequently-chosen itineraries. You can discover a river abounding with amazing natural beauties and historic relics. No one would deny the majesty of the Three Gorges - Qutang Gorge, Wu Gorge and Xiling Gorge. During the cruise and the onshore excursions, you can enjoy the spectacle of Fengdu Ghost City, the unique architecture of Shibaozhai, the fun of drifting in Shennong Stream and the immense wonder of Three Gorges Dam.
Yangtze Cruise Preparation
Spring and autumn are the most favorable seasons to make a Yangzte River cruise. Average temperatures of cities, clothing tips at daytime and nights, packing smarts and cash money on board should be considered. In addition, tips on health care, reminding of proper documents, ticket fares and staterooms for family with kids on ships and even pets are included here.
Yangtze Cruise Itinerary
Great Wall Adventure Club offers the most popular itineraries for your reference. These plans follow the itineraries passing the major port cities along the Yangtze, including Chongqing, Yichang, Wuhan and Jingzhou. You can choose an upstream or a downstream cruise according to your travel plan.
Upstream: Upstream means sailing from lower part of the river (such as Wuhan, Shashi, or Yichang) up to the higher part of the river (such as Chongqing and Fengjie).
Downstream: Downstream means sailing from the upper part of the river (such as Chongqing and Fengjie) down to the lower part of the river (such as Wuhan, Shashi, or Yichang). Usually cruising downstream will take less time than upstream.
On-Board Experience
All events, however small, are given to assure you a pleasant experience on board. Dining and entertainment facilities on board are designed with the Western traveler in mind. Information on the cruise cost is available including the general cost and extra expenses on special items on board such as the secretarial services and facilities to stay in touch with your friends or families. Additionally you should pay high attention to your luggage and valuables.