Chongqing City Tour Packages
Wulong Karst


Wulong Karst, an important part of the South China Karst, is situatedat the lower reaches of the Wujiang River southeast of Chongqing. It was namedas a world natural heritage by UNESCO in 2007. Wulong Karst features spectacularkarst landscapes, including the three main parts of Furong Cave, Three NaturalBridges and Houping Tiankeng (Houping Giant Doline).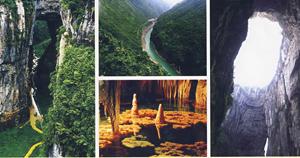 Wulong Karst is a valuable treasure that nature created. It is a cluster of several karst landscapes, consisting of gorges, natural bridges, caves, eroded dolines, shafts and underground streams. These karst landforms developed in the carbonate rocks, vividly recording the development and evolution of karst terrain in the Three Gorges area since Pleistocene Era. Furong Cave, Three Natural Bridges and Houping Tiankeng are the three representative karst landforms, developing under the condition of intermittent uplifting movement of the earth.
Each of the three karst systems standing alone forms a spectacular landscape. The Furong Cave abounds with various karren sediments forming many splendid natural wonders. The limestone sediments are also of great significance in scientific study. The three natural bridges constitute the largest natural bridge cluster in Asia, and the natural karst bridges are quite high and grand, a sight rarely seen anywhere in the world. Houping Giant Doline is the prime example and the largest tiankeng cluster formed by erosion in the world, and the longest underground cavern system in Asia.
Compared with Shilin Karst and Libo Karst, Wulong Karst is located in a relatively remote area away from the impact of human activity. Therefore, Wulong Karst retains its original features of karst landforms that have been despoiled elsewhere, hence its outstanding universal value.