Qingdao Tour of Zhan Bridge

Zhan Bridge has many other names such as Zhan BridgeQianhai Zhan Bridge, Nanhai Zhan Bridge and Grand Pier. Located at the coastal area at the southern end of Zhongshan Road, Zhan Bridge is an extension of the road into the sea. It is just about 0.3 miles from Qingdao Railway Station. Whether travelers come to Qingdao by train or by ship, Zhan Bridge, a Qingdao landmark, welcomes them at their first stop in this beautiful coastal city. The locals say that you can not know the real Qingdao if you have not gone to the Zhan Bridge, so follow our introduction to see the top scene of the city!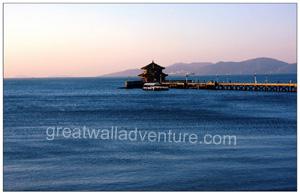 Originally built in 1891 as a naval pier, Zhan Bridge can be regarded as a construction as old as Qingdao City. During the Qing Dynasty, the imperial envoy Li Hongzhang once came to Qingdao to inspect the local development. At that time, Qingdao was just a small fishing village, which can not berth the big official ship of Li Hongzhang.

As a result, a temporary pier was built with a length of 200 meters (656 feet) and a width of 10 meters (33 feet). The pier, which was the original Zhan Bridge, was in use during the following decades. After the establishment of PRC, modern deep water port was built in Qingdao area; therefore the Zhan Bridge was abandoned.

Now, Zhan Bridge becomes a famous The pavilion on Zhan Bridgescenic spot thanks to the renovation in recent years. It is 440-meter (1444-foot) long and 10-meter (33-foot) wide with giant granite supports. Lotus-shaped lamps provide illumination and decoration. At the south end of the bridge is a Chinese style octagon pavilion standing in contrast to European buildings in the background. It is called Huilan Pavilion. Some small art exhibitions are often held here.

Qingdao Bay is crescent shaped; like an arrow, the bridge shoots into the broad sea. Standing afar, a white lighthouse braves the waves and wind, while the Small Green Island (Xiao Qing Dao) is a serene platform for exuberant trees. Dynamic and static scenes meld. No. 6 Beach west of the bridge and Zhan Bridge Park to the north of the bridge invite visitors to enjoy the beauty of Qingdao Bay.

Tour Qingdao with Great Wall Adventure Club, the best Qingdao tour agent to help you with your hotel booking and transfers.