Qingdao Tour of Xiaoyushan Park

Standing facing the sea, the Xiaoyushan Park adds charm to the beautiful Huiquan Bay. Characterized by sea scenery, the unique park is a classical garden-style construction combining the natural beauty, architectural techniques and artistic skills. Located at the junction of Yushan Road and Fushan Road, the park is built on the top of the Little Fish Hill. Relying on the geological advantage, the park commands an excellent view of Qingdao City although the hill is only 60 meters (197 feet) high.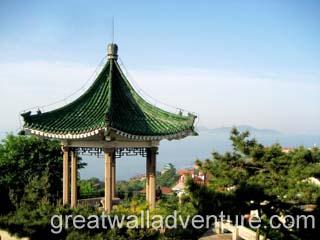 Inside the park, a pathway with various flowers and plants growing on both sides leads the way to the top of the hill. Along the hill, there is a hexagonal pavilion with green glazed tiles, Bibo Pavilion, providing a general view of the benign and smiling Huiquan Bay. To its east lies the main building of the park, Lanchao (Watching Tide) Pavilion. The three-storey octagonal Lanchao Pavilion with surrounding barriers has spiral staircases. Walking along the stairway, tourists can appreciate the Number One Bathing Beach, Huiquan Bay, Small Qingdao Island, Zhan Bridge, Lu Xun Park and other spectacular sights. This pavilion is considered to be the best place to have a panoramic view of the city and the seashore. There is a square Yongcui Pavilion lying to the east of the Lanchao Pavilion and it faces a vast maple woodland.

Along the zigzag corridor which connects the Lanchao and Yongcui Pavilions, there is a white alabaster mountain landmark with engraved embossment. The design of the landmark is rather extraordinary since it takes the shape of the hill and is carved into the hieroglyphs of fish. Three delicate frescoes are painted along the corridors; the simple paintings, lifelike figures and profound artistic conception contribute to the cultural atmosphere of the park.

The miniature landscape of Qingdao's reputed buildings has been set up in the park, and it contains the Governor-General Office, Qingdao Railway Station and the Catholic Church which are reproduced in detailed proportion enabling tourists to view all the prominent buildings of the city in one site.

Tour Qingdao with Great Wall Adventure Club, the best Qingdao tour agent to help you with your hotel booking and transfers.