Qingdao Tour of Tianhou Temple

Tianhou Temple (Temple of the Queen of Heaven) can be often seen in China's coastal cities such as Hong Kong and Macau as well as in the Southeast Asia. It is generally believed that to worship the Queen of Heaven can ensure the smooth going of the sea voyage, so every front door of Tianhou Temple is built facing the sea.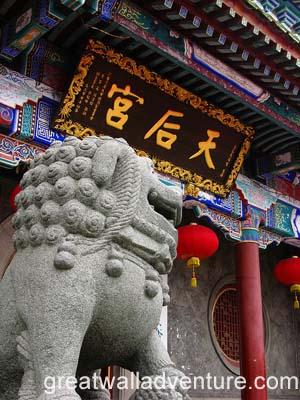 Qingdao Tianhou Temple, built in 1467 of the Ming Dynasty (1368-1644), is a famous place of interest combining the marine and folk cultures. Located at No.19, Taiping Road, it is an ancient architectural structure of strong national characteristics along the coastline. The temple is a celebrated cultural tourist attraction and base for studying the folk art of Qingdao.

The whole temple has sixteen buildings and over eighty rooms, including the main hall, subsidiary halls, wing-rooms, an opera tower, a bell tower and a drum tower. The opera tower is covered with glazed tiles, while the other buildings, built with dry walls and gray tiles, have colored paintings and carvings. Two stone tablets kept in the temple recorded the restoration of the temple during the Qing Dynasty (1644-1911). Of all the ancient buildings of Qingdao, the architectural and painting art of the temple are inferior to none.

Entering the temple, one will firstly notice the two-storey resplendent opera tower. The mast and two large stone lions before the tower make the temple even more magnificent. The four treasures of the study (writing brush, ink stick, ink slab and paper) and rare antiques are on display inside. The crossbeams of the opera tower are painted with exquisite drawings. The bell and drum towers stand on the sides of the opera tower. The main hall of the temple is where the Mazu (the Queen of Heaven) is enshrined. The 2.8-meter (9.2 feet) high statue of Mazu, made from camphorwood, is the largest woodcarving in the world. Besides, many rare ancient trees are living in the temple which is a blend of typical temple and inviting garden. A gigantic osmanthus tree presents vermeil flowers in autumn and the sweet smell attracts many visitors. A male and a female gingko trees have survived for more than 500 years.

The temple has been turned into a folk custom museum of Qingdao. Over 100 folk cultural relics are kept in the museum, including paper-cut, Chinese fancy knots, bead-weaving, clothing art, agate, calligraphies, paintings, mosaics, poker work and inside-painting bottles. They are the Qingdao folk art in miniature and the reflection of Chinese folk art and the museum has become a market for the folk handicrafts of Qingdao.

Tips: Temple fairs, celebrations and folk activities are held from May 1st to 7th and on March 23rd of Chinese lunar calendar when the Mazu was born.

Tour Qingdao with Great Wall Adventure Club, the best Qingdao tour agent to help you with your hotel booking and transfers.