Qingdao Tour of Seashore Scenic Area

Qingdao Seashore Scenic Area, located in South of Qingdao, Beautiful seashoreis a tourist attraction that integrates mountains, seawaters and architecture. This scenic area is along the coastline, extending 25 kilometers (16 miles) from east to west, with an area of 8.4 sq kilometers (3.2 sq miles) on land and 5 sq kilometers (2 sq miles) in the water. In 1982, it was listed among the first national scenic spots.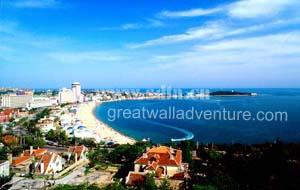 Qingdao Seashore Scenic area is an open scenic spot, consisting of six parts: Qingdao Bay, Huiquan Bay, Taiping Hill, Badaguan Scenic Area, the Eastern New City Area and Shilaoren Tourist Holiday Resort. The major scenic spots include Zhan Bridge, Luxun Park, Small Qingdao Island, Xiaoyu Hill, Baihua Garden, Huiquan Square, May 4th Square (Wusi Square), Music Square, Yan'erdao Park, No.1, No.2, No.3, No.6 Bathing Beach, Binhai Sidewalk. These picturesque spots display the incredible charm and scenery of the Qingdao seashore.

The six major scenic areas with distinctive characteristics mirror the unique seashore scenery. Qingdao Bay, located in the southwest of Qingdao, is a concentration of scenic spots and the most important part of Qingdao Seashore Scenic Area. Huiquan Bay Scenic Area distinguishes itself from others in Qingdao by its picturesque scenery; every summer, tourists flock to the Huiquan Bay to enjoy sunbathing and the surrounding scenery of its beautiful bathing beaches. Taiping Hill Scenic Spot is characterized with its abundant plants and animals. With many well-equipped villas, Badaguan Scenic Area has become an ideal place for vacationing and sightseeing renowned for the distinctive architectural complex. The New City Area, built in 1990s, fully illustrates the results of the modernization of Qingdao. It has become the city's center of finance, commerce, culture and entertainment.

Shilaoren Tourists Holiday Resort is rich inCalm sea both natural and cultural resources. This scenic area is enclosed by three hills in the north, west and east. In the south lies a broad and smooth beach covered with fine sand. Hills, sea, flowers, reefs together with the cultural sceneries such as the Dolphin Performance Museum and Beer Town make this area charming both naturally and culturally.

The blue sea, gentle breezes, azure sky, green trees, red roofs and yellow walls make Qingdao outstanding and unique. Among its many sightseeing opportunities, May 4th Square is a landmark building. It covers an area of 100, 000 sq meters (119,599 sq yards), surrounded by towering trees and green lawns dotted with blooming flowers. The theme sculpture on the square, 'The Wind of May' is like a burning torch, symbolizing the vigorous development of Qingdao.

Walking along the Binhai Sidewalk and Seashore Sightseeing Road to enjoy the distinctive seashore scenery, tourists may imagine themselves walking in a fairy-tale land. Every year, tens of thousands of tourists from home and abroad are drawn to Qingdao Seashore Scenic Area.

Tour Qingdao with Great Wall Adventure Club, the best Qingdao tour agent to help you with your hotel booking and transfers.