Qingdao Tour of Guest House

Qingdao is remarkable for its charming seashore scenery and unique western-style buildings, with the Qingdao Guest House truly deserving a prominent position among the various buildings. Situated at No.26, Longshan Road, Shinan District, on the southern slope of the picturesque Signal Hill, the splendid Qingdao Guest House (now a museum) is a German style castle with European regal features.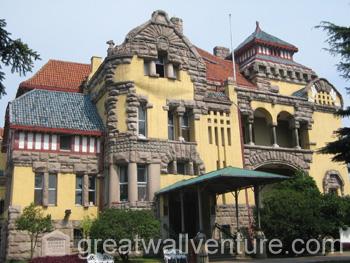 Built in 1905, the luxurious Guest House once served as the residence of a Germany governor. This extraordinary structure, with extensive features of that period, is now rare in Germany; it is considered a valuable example of this architectural style. Many overseas architects come to see and marvel at this masterpiece.

The design of the building is rather unique, with the adoption of a rough granite exterior, steep roofs, thick walls and narrow windows reflecting the distinctive style of such German buildings. The majestic Guest House is more than 30 meters (98 feet) high with a wall thickness of over 60 centimeters (24 inches). The yellow exterior walls are decorated with rough granite. Balanced by bright red pantiles and blue fish-scale tiles, the asymmetrical roofs with protruding turrets and acute slopes together contain a sumptuous palace. Inside the perimeter walls, which were built in 1957, is a vast courtyard covered with fruit trees and ornamental plants.

The four-storey Guest House contains 30 rooms of various sizes, including 13 main rooms each of which had different functions. The servants lived in the rooms on the first floor, and the main hall, meeting hall, living room and ballroom were on the second floor. The governor lived and worked on the third floor, while some bedrooms and rooms for other purposes were on the fourth floor. The interior decoration is extremely luxurious and elegant. The paneling and ceilings are engraved with elaborate embossments which remain in excellent condition. Glittering jade stones are inlayed in the motley pendant lights, wall lamps and fireplaces. Germany furniture, furniture from the Chinese Qing Dynasty (1644-1911), curios, calligraphies and paintings are also kept in their original locality. All of the fireplaces and heating radiators are of different styles, and some of the original German products are in good working order even now.

The 9-meter (30 feet) high hall has a Germany floor clock in one corner. Designed by a celebrated Germany clock maker, this particular clock signals the quarters by music and strikes the hours with a pleasant sound. In the ballroom, there is a Germany piano, manufactured in 1876, and with the keys made of ivory. It is invaluable since it has excellent timbre while its manufacturer was destroyed during the World War. A copper crystalline chandelier weighing 1,000 kilograms (2,200 pounds) and resembling a grand flower just ready to burst hangs in the ballroom. There is also a room and study where Chairman Mao once lived and worked.

The guesthouse has passed through a number of owners, and is deeply linked with many domestic and foreign political celebrities. During the past century, it has hosted Chairman Mao, Vietnamese leader Ho Chi Minh, Albanian leader Shehu, Australian Minister Hill, Cambodian Sihanouk and other Chinese dignitaries.

Tour Qingdao with Great Wall Adventure Club, the best Qingdao tour agent to help you with your hotel booking and transfers.