Qingdao Tour of Beer Museum

In August 1903, German Beer Company Qingdao Branch, China's first beer factory that built by European technology, was born in Qingdao. After a hundred years of vicissitudes, it has been developed into Tsingtao Brewery Company, a world-famous manufacturing enterprise special in Qingdao Beer production. At present, it owns 55 beer factories and malt factories in 18 cities and provinces in China. The one-hundred-year old Qingdao Beer has created its own history and culture.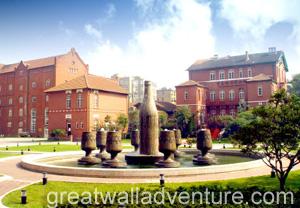 Situated at No.56, Dengzhou Road, Qingdao City, the Qingdao Beer Museum is built on the site of German Beer Company Qingdao Branch. Being the first museum of its kind in China, the construction of the museum provides a spectacular showcase for Qingdao beer to oversea tourists, and has become the pride of the people of Qingdao.

Summing up the many merits of beer museums in many developed countries, the museum was designed by an outstanding architect and designer utilizing both Chinese and western culture. The project started in 2002 and completed in 2003, and was presented as a gift to the Qingdao Brewery Factory upon its 100th anniversary. Utilizing the century-old German architecture and equipment, the museum integrates the history, development and modern brewing techniques of Qingdao beer, making it a world-class one.

The museum is an Occidental two-storey red building constructed in 1903 by Germans and is one of a few typical Gothic constructions within the city. In the museum, one can see historic sepia and black & white photographs; appreciate the cultural relics from both home and abroad and see samples of Qingdao beer kept from different eras. The four huge copper brewing vessels are kept in the museum and were manufactured in Germany and were in use until their decommissioning in 1995. Historical artifacts donated by the descendants of both German and Japanese staff of the Qingdao Brewery are especially precious and absorbing. Here, you will have the opportunity to get close to the mysterious origins; the long history of beer and instruments used.

In the manufacturing and technology area, the historic buildings, facilities and the original workshops and scenes of production brings the museum to life. Beer-making ingredients like barley, brown malt and hops are also on display. Sculptures of staff in the workplace vividly represent the beer making process. The first floor of this multi-functional space can comfortably accommodate more than 100 visitors, providing both wine-tasting and shopping opportunities. Visitors can also sample the various freshly brewed beers and buy a great variety of souvenirs.

Since its opening, the museum has received countless domestic and foreign tourists, including both national and international statesmen. The superb environment, high quality of service and distinctive charm has made the museum a leading light of domestic industrial tourism.

Tour Qingdao with Great Wall Adventure Club, the best Qingdao tour agent to help you with your hotel booking and transfers.