Pingyao Tour of Temple of the City God

As one of the best preserved temples in China, the Temple of the City God is located in the southeast of Pingyao City. The whole construction is of a grand scale, and covers an area of 7,302 square meters (approx. 8,733 square yards). The temple has a long history and has been renovated several times.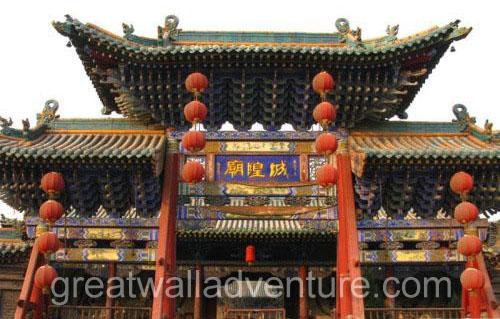 Built facing the south, the temple looks very magnificent. The wonderful woodcarvings, stone sculptures, painted sculptures and mural paintings in it reflect excellent craftsmanship. The two murals in the temple are art treasures that are rarely seen in China. The beautiful colored glaze decoration forms a feature of particular interest in the temple. The roofs in the temple are adorned with the colored glaze with the predominant colors of blue and green, all appearing very special and beautiful.

The whole temple is composed of Temple of the City God, Caishen (god in charge of fortune in Chinese legends) Temple, and Zaojun (god in charge of food) Temple.

Temple of the City God: It includes many constructions such as Hall of the City God, Theatre Hall, and Sleep Hall. Hall of the City God is the court of law of the city god, thus the atmosphere in the hall is serious and gloomy. The city god is sitting upright in the shrine with the judges and ghosts standing to the side. Sleep Hall is the place where the city god lives with family dependants. The room downstairs is the site where the city god deals with special legal cases and receives guests, while the room upstairs is the city god's bedroom.

Caishen Temple: Three main figures are in the shrine to be worshipped. The sculptures in the shrine are delicately carved and symbolize delight and auspiciousness. The painting on the wall vividly depicts the great occasion of minority's coming a long way to present tribute to emperor. Besides Caishen Temple, there are also Zhenwu Pavilion and the Theatre Hall of Caishen.

Zaojun Temple: Cooking god is one of the most respectable and reliable gods in Chinese people's mind. Legend says that the cooking god is dispatched to supervise people's acts indoors and report the fruit of his work to the highest god every twelfth month of the lunar year. In order to avoid bad deeds being reported, people prepare a kind of delicious dessert for the cooking god named 'Tanggua'. In the temple, when spring comes, the 100-year-old clove trees bloom and give off perfume, adding vitality to the temple.

The temple is deeply rooted in the religious culture and well reflected in the folk customs. It is a special site that tourists should never miss when visiting Shanxi.

Tour Pingyao with Great Wall Adventure Club, the best Pingyao tour agent to help you with your hotel booking and transfers.