Lhasa Tour of Tibet Museum

The Tibet Museum is located in the southeast corner of Norbu Lingka, Lhasa city. It covers an area of 23,508 square meters (5.8 acres) including the exhibition area of 10,451 square meters (2.6 acres). The museum is equipped with modern facilities to ensure quality service for visitors and safety and efficient administration of the museum itself. Here exhibits are introduced in Japanese, English, Tibetan, and Chinese, in order to accommodate visitors from all over the world.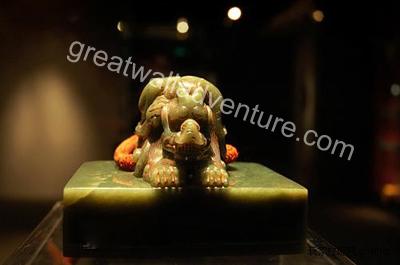 The construction project of the Tibet Museum was listed as one of the sixty-two "Aid-Tibet Projects" in July 1994.The museum opened in October 1999 to coincide with the 50th anniversary of the Founding of the People's Republic of China and the 40th anniversary of Tibet's Democratic Reform. The former Chinese chairman Jiang Zemin inscribed the name for the Museum.

The museum building is a pioneering institution in the history of Tibet. Designed by a Han Chinese architect from Sichuan province, the complex is a wonderful combination of Chinese and Tibetan architectural styles. Upon entering the Prelude Hall, visitors' attention will immediately be caught by the colorfully ornamented beams, pillars, lintels, banners and wall hangings. Going forward, visitors will see that the museum is actually sub-catalogued: the first catalogue includes two exhibition halls on the first floor, showing the splendid history of Tibet and its abundant natural resources; the other catalogue is on the second floor and is comprised of five small exhibition halls that display Tibetan religion, folk custom, treasures, and arts and crafts. The Tibet Museum houses a rich collection of prehistoric cultural relics including Buddha statues in different postures, imperial jade seals, gold albums, gifts granted by emperors, colorful tangkas, and various printed Sanskrit and Tibetan scriptures. Visitors can also see variety of folk art such as unique Tibetan handicrafts, costumes, jewellery, and adornments made of gold, silver, and jade, as well as fine Chinese pottery.
Skull Cup

In addition to showing the civilization of Tibet, the museum is also an ideal location to hold cultural exchanges and seminars, to preserve cultural relics, and to encourage the archaeological study of Tibet.

The Tibet Museum is not only a source of information and inspiration for Tibetans themselves, but it is also attracting an increasing number of people from overseas and educating them on the unique Tibetan culture. Let's wish the Tibet Museum a bright future in the new millennium!

Tour Lhasa with Great Wall Adventure Club, the best Lhasa tour agent to help you with your hotel booking and transfers.