Lhasa Tour of Nietang Buddha

Nietang Buddha, named after Mt. Nietang 40 km (24.85 miles) southwest of Lhasa city, is the biggest stone statue engraved on a cliff in Tibet. Located at the north foot of Nietang Mountain, it is the first attraction to welcome visitors to Lhasa. Almost every passenger wants to get off the bus to get closer to it and take a photo as a souvenir.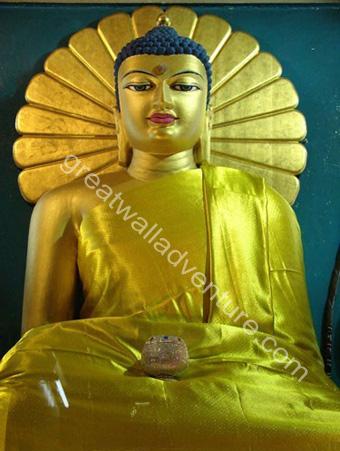 The Buddha statue is one of Sakyamuni sitting under a bodhi tree to capture evils. The statue is 8 meters (about 26 feet) in width and 9.8 meters (around 32 feet) in height including the base, 1.3 meters (4.27 feet). With its striking colour it can be seen clearly several miles away. While taking a closer look at it, you may feel mysterious, or even that you were in the world of Buddha. Authoritarians highly evaluate the statue, stating that it shows a perfect combination of the stone's quality and the engraving skill by combining moderate proportions and using bold and unconstrained lines, so that the statue looks vivid and lifelike.

Having gone through many ups and downs, Nietang Buddha still maintains his lustre and enchantment and receives countless Buddhists and visitors with his mystical smile and majestic appearance.

Nietang Tara Temple is located near to the Nietang Buddha. It is a simple and neat temple. Though small in size, it has a long history. In 1046, the famous father of Tibetan Buddhist A Dixia was invited to Nietang to take on apprentices and promote Buddhism ideas. Nine years later, he passed away. His disciples built Tara Temple to worship the Statue of Nengyan Tara, which was respected by the master A Dixia. Today, it is still a busy place for worshiping Buddha.

Tour Lhasa with Great Wall Adventure Club, the best Lhasa tour agent to help you with your hotel booking and transfers.