Lanzhou Tour of Bingling Thousand Buddah caves

Bingling Thousand Buddha Caves is located on the Small Jishi Hill, about 35 kilometers (about 22 miles) west of Yongjing County in Lanzhou City. Being one of the very noted four caves in China, it is the second to Mogao Caves in respect of artistic value.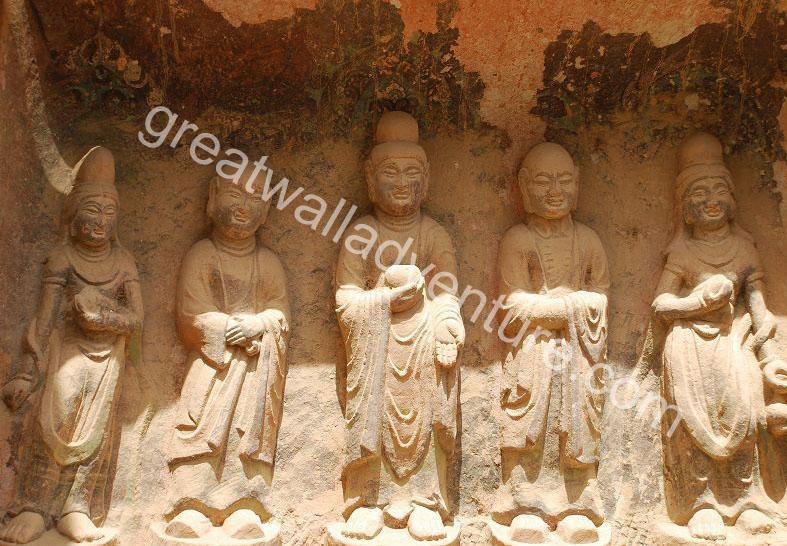 Bingling means 'ten thousand Buddhas' in the Tibetan language. The starting construction time of Bingling Thousand Buddha Caves dates back to the Western Jin Dynasty (265-316). In the following dynasties, the caves had been excavated many times. There are now 183 niches, 694 stone statues, 82 clay sculptures and some 900 square meters' (about 1,076 square yards') of murals, which are all well preserved. Famous for its stone sculptures, Bingling Thousand Temple Caves stretches about 200 meters (about 600 feet) on the west cliff in Dasi Gully. Among the caves, the main characters are Sakyamuni, Kwan-yin, Amitayus Buddha, Maitreya Buddha, and other Buddhas. With elegant postures, flying robes and ribbons, the statues are life-like. Among the caves, Cave No.169 is worthy of a particular mention. Made in the Northern Dynasties (386-581), it is the most imposing and delicate one which holds the clay sculptures of Kwan-yin, Dali Buddha (Dali means powerful strength in Chinese), etc. Dali Buddha has a round face, sitting with legs crossed. When we see this sculpture we will feel its expression as being very solemn.
The colors present us vivid Bodhisattvas and Buddhas. Cave No.125, which holds the stone sculpture of Sakyamuni, is also one not to be missed.

The stone sculptures in Bingling Thousand Buddha Caves represent the social situations and customs during ancient times. In the vicinity of the caves are green hills, crystal water, grotesque stones and precipitous cliffs, which adds more beauty to this artistic site.

After the founding of People's Republic of China, the State Council designated the site as a key cultural relic, and placed it under state protection.

Tour Lanzhou with Great Wall Adventure Club, the best Lanzhou tour agent to help you with your hotel booking and transfers.