Inner Mongolia Tour of Zhaojun Tomb

Zhaojun Tomb is situated nine kilometers (approx. 6 miles) away from Hohhot, on the plain extending from the northern bank of the Dahei River. Also called 'green tomb' after the green grass that grows on it, the tomb is listed among the eight most popular scenic spots in Hohhot. The tomb is a large man-made earthen mound, which is 33 meters (approx. 108 feet) high. It was built to commemorate a great woman named Wang Zhaojun, who was one of the four most beautiful ladies in ancient China, and who sacrificed herself for the unity of China by marrying Khan.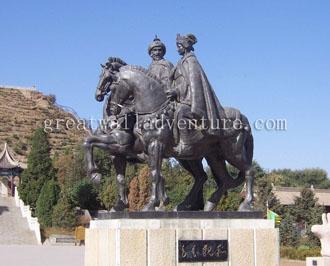 In front of the tomb, bronze statues of Wang Zhaojun and her husband (Khan), depict a vivid picture of them riding horses and talking to each other intimately. The statues are the symbol of the friendly relations between the Han nationality and the Hun nationality, which was greatly promoted by Wang Zhaojun.

Behind the statues, there are several steles displaying the praises bestowed upon Wang Zhaojun. Among them, the stele marked with the poems of Dong Biwu (a modern revolutionary and a politician) is the most notable one.

Behind the steles, stone stairs and a stone platform are connected with the Zhaojun Tomb. Upon the stone platform you can find a pavilion. The pavilion offers tourists a good position from which to overlook the scenery surrounding the tomb and the far away Mt. Yinshan.

Recently, the tomb area has been developed to include cultural facilities such as a Reception Room, Exhibition Room and Painting and Calligraphy Room. The tomb has now become one of the key cultural relics under the jurisdiction of Hohhot.

The tomb is famous for its spectacular scenery. The summer months are mild, and the wild flowers and grasses grow in abundance, creating a beautiful natural picture together with the towering green trees. When autumn comes in September, unlike grasses, which are shriveled and yellow at this time of the year, the grass growing on the tomb is still green and vigorous.

Tour Inner Mongolia with Great Wall Adventure Club, the best Inner Mongolia tour agent to help you with your hotel booking and transfers.