Inner Mongolia Tour of Xilamuren Grassland

Having visited many historic sites and climbed several famous mountains, are you eager to experience grassland life? Thus Xilamuren Grassland should be a good choice!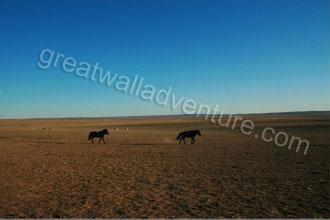 Lying about ninety kilometers (about 56 miles) north of Hohhot, Xilamuren Grassland is the first grassland tourist attraction opened in Hohhot. Xilamuren means 'yellow water' in Mongolian.

The best time to visit the grassland is in summer and autumn. At this time of year, the pleasant climate, the blue sky and white clouds, the rolling grass, the wandering flocks and herds, the passionate herdsmen and their Mongolian food will undoubtedly leave you with a deep impression. During the Nadam Festival held every summer, tourists can enjoy a series of different activities, including camel riding, horse racing, wrestling, archery, a camp fire party and singing and dancing. You can even take part in some of the competitions that you are interested in. A big surprise is probably waiting for you!

Moreover, on Xilamuren Grassland, there is a Lama Temple built in the Qing Dynasty (1644-1911). It is the Puhui Temple, which should not be missed on your trip to Xilamuren Grassland. Originally it was the temporary palace for the sixth Xilituzhao living Buddha. Now it is a complex of three halls with carved ceilings and painted beams. The beautiful Xilamuren River surrounds the temple, presenting a peaceful and harmonious atmosphere.

Don't hesitate to pay a visit to Xilamuren Grassland. It won't disappoint you!

Tour Inner Mongolia with Great Wall Adventure Club, the best Inner Mongolia tour agent to help you with your hotel booking and transfers.