Inner Mongolia Tour of Wanbu Huayanjing Pagoda

Built in the Liao Dynasty (916-1125), the Wanbu Huayanjing (Ten Thousand Huayan Buddhist Scriptures) Pagoda is located in the east suburbs about 17 kilometers (11miles) from Hohhot City. Legend says that about ten thousand volumes of the Huayan Buddhist Scripture once were kept in the pagoda, hence its name. Due to its white surface, the pagoda is also called the White Pagoda. In 1982, the Wanbu Huayanjing Pagoda became a national key cultural relic site.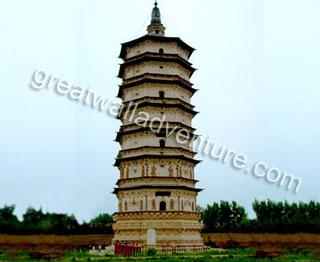 With a height of 55 meters (180 feet), the Wanbu Huayanjing Pagoda is a seven-tier octagonal brick and wood structure. In order to survive earthquakes, many wooden stakes were wedged in the walls to reinforce the structure. Each story of the pagoda consists of the exterior wall, the interior wall and the cloister between them. A spiral staircase connects the stories together and leads to the top of the pagoda. Bronze mirrors are embedded under the eaves of each side of the pagoda. Wind bells hang on the ceiling of the corner of each story and on the rafter of the seventh tier. Approaching the pagoda, tourists can see the bronze mirrors gleaming under the sun and hear the euphonious sound of the wind bells.

The White Pagoda is built on a huge pedestal with a perimeter of about 56 meters (184 feet). On the pedestal are carved beautiful lotus petals. The sculptures of Bodhisattvas, Heavenly Kings and other Buddhist figures are embedded on the surface of the walls of the first and the second tiers. These sculptures are considered to be the finest expressions of the sculpturing art in the Liao Dynasty.

Each story of the pagoda has two gates. On the door head of the south gate of the first story is embedded a plaque with the inscription, 'Wanbu Huayanjing Pagoda'. Originally, nine Jin Dynasty (1115-1234) steles were preserved on the first floor. Only six remain extant today. Inside the pagoda are also preserved some inscriptions of the Jin, Yuan, Ming and Qing Dynasties which are written in Chinese or languages of other ethnic minorities.

Tour Inner Mongolia with Great Wall Adventure Club, the best Inner Mongolia tour agent to help you with your hotel booking and transfers.