Guiyang Tour of Hongfu Temple

Hongfu Temple is in Qianling Park, which is situated in the northwest of Guiyang, Guizhou Province. About 1.5 kilometers (about 0.93 mile) from downtown area, and is considered to be the most famous Buddhist site in the province.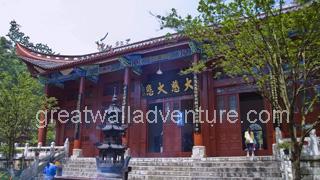 'Hongfu' is Chinese for 'good fortune', which is an apt name for the temple considering its history. It was in 1672 when Chisong, a monk during the Ming Dynasty founded the temple. It had very poor beginnings, being little more than a small hut, but Chisong was determined that it should become a revered shrine and through his persistence many local officials gave their support. In time the temple was to become the most important Buddhist temple in the area.

The temple complex is made up of a number of halls and the most important of these are the Daxiongbaodian Hall, the Kwan-yin Hall (the Guanyin Hall), and the Sutra Collection Pavilion. The architectural style is magnificent and venerable. Over the past 300 years the temple has undergone several rebuilds, repairs and enlargements and is now a very well preserved example of its kind. As the largest Buddhist temple in Guizhou Province it has been declared a key cultural relic and has been open to the public since 1983.

In recent years many prominent people have visited the temple and in accordance with Chinese tradition have left poetry in praise of the inspiring architecture and its setting. A stroll through the temple compound will enable you to enjoy its peaceful environment while reflecting upon its splendid past.