Guiyang Tour of Forest Park

Guiyang Forest Park, which used to be the experimental forest of Guizhou Forest Science Academy, is currently the oldest and largest municipal forest park in the nation. In 1960, the then Primier Zhou Enlai went to Guiyang to inspect the local development. When he saw the lush vegetation of various kinds covered the continuous mountains of Guiyang, he was totally attracted by the charming scenery of this area. Therefore, a forest park was built later under Premier Zhou's instructions.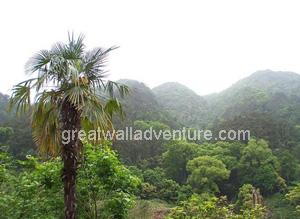 Covering an area of 532 hectares (1,315 acres), Guiyang Forest Park is located 2.5 kilometers (1.6 miles) southeast of downtown Guiyang. With a sea of various rare plants, animals and many other tourist resources, the park is an ideal choice for tourists to relax in the nature.

There are various forest zones, such as those dedicated to the plants of Catalpa, Camphor Trees, Teak, Pine, and Alamo, are all well preserved. With a forest coverage percentage up to 90%, the park is densely wooded, and so offers an environment full of pure and fresh air. Lofty hills, flourishing woods and gentle breezes make it an ideal summer resort. Tourists can also find a lot of wild animals, including squirrels, pangolins, owls, pheasants, thrushes, hedgehogs, roes, hares, weasels and so on.

Historical relics can also be found in the park. Zhongshan Hall is rebuilt in memory of Sun Yat-sen, the great forerunner of Chinese revolution. There is a monument set up in the park to commemorate the international medical team which came to help Chinese people during the Sino-Japanese War. The area around the north gate of the park was the necessary pass along the ancient post road. It was called Tuyunguan Pass. Being an important military stronghold, Tuyunguan was the first pass in southern Guizhou. It was garrisoned with picked troops during the Ming and Qing Dynasties. Today many ancient cliff carvings and steles are well preserved here.

In addition, Guiyang Forest Park has a beautiful manmade lake for tourists to enjoy the tranquility in the forest. There are also many gardens in the park to cultivate some precious plants such as azalea and maple for visitors to appreciate.