Guiyang Tour of Baihua Lake Scenic Area

It is found 22 kilometers (approx. 14 miles) in the northwest suburb in Guiyang, the Baihua Lake Scenic Area is a famous tourist attraction, which is famous for its natural beauty of lakes and hills. The scenery here is much like that of Li River Scenery in Guilin, thus the scenic area was given the nickname - 'Little Guilin'.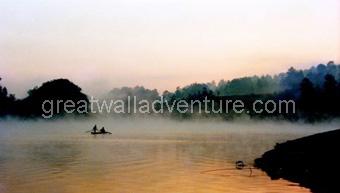 The landscape there is wonderful. Water in the lake is clean and tepid, and the green hills standing in the lake resemble pretty, gentle girls. Many kinds of birds have been attracted to live there all the year round. In the lake, there are over 100 islands, which make the lake appear like the sky bejeweled with stars.

Over 50 scenic spots are in this scenic area, of which 23 are now opened to tourists. The names of some of the more notable scenic spots are: overlooking the Pin Ocean, Two Monkeys Guarding the Garden, Kwan-yin Cavity on the Maoli Hill, Hongwu Temple on the Moon Hill, and Birds Island. The Birds Island is a place which catches tourists' eyes most: When spring or winter comes, a considerable amount of birds are wheeling above the island, forming a magnificent spectacle.

The scenic area offers tourists pleasure of rural life: There are some dozens of families living there. When inhabitants berth their boats by the island, the whole scenery in the lake forms a picture full of peace and romance. Flowers bloom and birds fly through the sky here in spring, with widgeons floating and playing in the water.