Dunhuang Tour of White Horse Dagoba

White Horse Dagoba is located in Baima (White Horse) Village, Danghe Town, 1 km (0.62 mile) west of Dunhuang City, Gansu Province. The dagoba has 9 stories, is 12 meters (39.4 feet) in height with an octagonal foundation. Structures resembling up-turned lotus petals surround its central body. On each of the angles of its hexagonal roof hang bells which chime in a breeze. The dagoba is of the lama dagoba style of the Ming Dynasty (1368-1644). It is evident from the characters engraved on two stones and on a block in the middle of the second story that the White Horse Dagoba was repaired many times by later generations.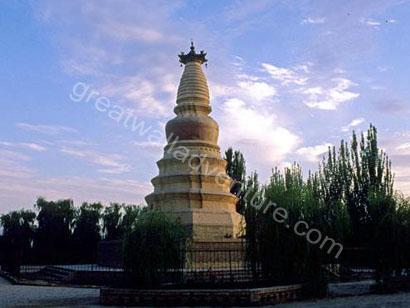 A story accompanies the dagoba origins. Legend has it that the dagoba was built in memory of a white horse. It is said that in 384, Fu Jian, emperor of the Former Qin Dynasty (351-394), invited Kumarajiva, a master specializing in Buddhist dharma, to carry Buddhist doctrine into China from the West Region. When Kumarajiva reached the present Dunhuang City, his white horse got sick and died. The white horse had accompanied Kumarajiva through the Gobi, several times saving his life. In memory of his loyal horse Kumarajiva and local Buddhist followers raised money and had this dagoba built in 386. According to records, in 1930, a 0.9-meter-high (3.0-foot-high) pagoda with a diamond sutra (abbreviation name for a kind of Buddhist sutra) carved on it was excavated. However it was later lost.

Even after 1000 years, the White Horse Dagoba set off by surrounding green trees and cyan tiles is still straight and majestic, a treasure of Dunhuang City.

Tour Dunhuang with Great Wall Adventure Club, the best Dunhuang tour agent to help you with your hotel booking and transfers.