Dunhuang Tour of Crescent Lake

Just as oil and water don't mix, so do springs and deserts. But Crescent Spring is an exception. About 6 kilometers (3.73 miles) south of Dunhuang city, and surrounded by the Echoing-Sand Mountain, Crescent Spring can be called a natural wonder in the Gobi Desert. Some say it reminds them of the eye of a beautiful woman, lucid, beautiful and amorous. Some say it looks like the mysterious, gentle and seductive lips of a pretty woman, or a slice of lush, sweet and crystal cantaloupe. Actually, it resembles a crescent fallen down into this desert. Having been lying among these sand dunes for thousands of years, although given many surprise attacks by sandstorms, Crescent Spring still gurgles clear, and still remains worthy as the first spring in the desert.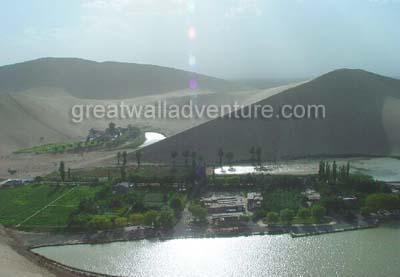 You may be wondering how this desert wonder formed. Research has discovered that in this special crescent landform the wind created this depression, as the cross-ventilated theory states, the falling sands from the surrounding mountains would be sent back to the other side of nearby Echoing-Sand Mountains. Thus, the sands do not smother the spring. And this particular earth movement keeps the sand dunes and spring eternally in a harmonious and almost paradoxical existence.

Here you can enjoy not only the rare view where an oasis meets the desert, but also some fun sand adventures, such as riding camels, 'dune surfing' sand sliding. After climbing to the top of the dunes, from there you can't help but marvel at the dramatic view. You have discovered the wondrous sight of Crescent Spring!

Tour Dunhuang with Great Wall Adventure Club, the best Dunhuang tour agent to help you with your hotel booking and transfers.