Dalian Tour of Squares in Dalian

Dalian-Zhongshan Square

Zhongshan Square, also called 'Nicholas Square' was originally built in the Russian colonial period. This round square is typical of the blending of western styles of Romanesque, Gothic and Renaissance with a variety of old European style buildings surrounding an elegant marble circle terrace. Today, government financial institutions are housed in those old buildings and the square becomes a weekend leisure place for local people. At night the square is colorfully illuminated.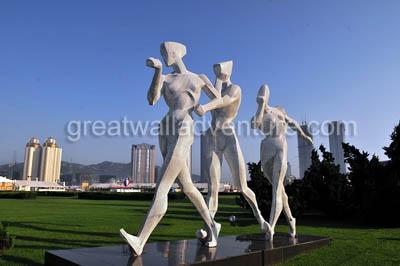 Dalian-Renmin Square

This square is a more dynamic place with a charming music fountain in the south. Opposite the beautiful fountain are the municipal government institutions including the public security bureau, municipal court and procurator's office.

Dalian-Youhao Square

This square was built to commemorate the friendship of China and the former Soviet Union. The illuminated crystal-ball architecture in the middle of the square is eye-catching. The five hands holding the ball resemble the solidarity of people from five continents of the world. At night, the colored lights inside the crystal-ball make it a dazzling view - it is popular with photographers. The neighboring area is the entertaining and cultural center of the city dotted with numerous cinemas and entertainment places.

Dalian-Olympic Square

Comprised of five round squares, this square complex was a 100 year anniversary gift project built in 1999 by the Dalian government. On the northern part of the square is the five-ring Olympic symbol and on the southern square are twelve tennis courts and a football ground. On the eastern and western flanks of the square are music fountains, resembling a pair of hands holding the five rings. Wal-Mart has a shopping center under the square.

Dalian-Shengli (Victory) Square

It is said Dalian was the drawing room of northern China and Shengli (Victory) Square is that of Dalian. Located in front of Dalian Railway Station, this square is surrounded by numerous shopping centers and department stores. The Romanesque area sunk down in the middle of the square is a venue for dazzling commercial promotions and art performances.

Dalian-Haizhiyun (Melody of Sea) Square

With a group of artistic sculptures resembling soaring seagulls and a flying dragon, this square is the entrance to the northeastern section of Binhai Lu, the most scenic coastal area of the city. A man-made waterfall is built in the middle of the square with various totem sculptures that present the harmony of human and nature.

Tour Dalian with Great Wall Adventure Club, the best Dalian tour agent to help you with your hotel booking and transfers.