Dalian Tour of Bangchuidao Scenic Area

9 kilometers (some 5 miles) away from the center of Dalian City, Bangchuidao Scenic Area is located in the east of the Binhai Road. It consists of Bangchuidao Islet, the natural lido and Bangchuidao Hotel. It is a famous seashore resort combining marvelous scenery of hills, sea, islet and beach.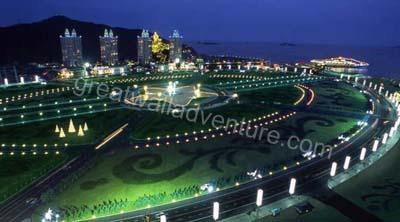 Surrounded by hills, the northern part of the scenic spot appears beautiful and verdant. The hills are densely planted with flourishing pine trees and cypresses. The southern part is an open maritime area featuring a smooth sand beach. The adjacent lido is regarded as one of the best in Dalian City. 600 meters (some 1968 feet) away from the seashore is the Bangchuidao Islet whose name derives from its shape. This islet is shaped like a Bangchui (wooden club) used by some Chinese people as a washing tool, thus it was named. It is relatively small, covering an area of only 0.3 square kilometers (about 74 acres), while it boasts steep cliffs, peculiar rocks and beautiful wild flowers and grasses everywhere.

Bangchuidao Scenic Area enjoys a temperate climate, thus is a perfect summer resort. The famous Bangchuidao Hotel is situated here covering an area of 87 hectares (about 215 acres). As the only national hotel in Dalian City, it mainly functions as the accommodation for leaders and holding large-scale important conferences, which have been held many times here in the past. Many famous national leaders from home and abroad such as our beloved Premier Zhou Enlai (the first Premier of the People's Republic of China) have lived here. Now the hotel greets friends from the entire world with its different styles' garden villas, excellent services and self-contained modern recreational facilities such as standard golf course, large tennis court, swimming pool and bowling alleys.

Tour Dalian with Great Wall Adventure Club, the best Dalian tour agent to help you with your hotel booking and transfers.