Beijing Jianyuan Hotel

Backpacker's choice for better accommodation in downtown Beijing
Star Rating:


Address: 5 Bei Xinping, Liubukou, Beijing

More downtown Beijing hotels here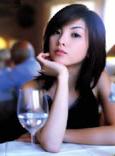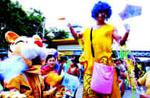 Xidan
The two-star Jianyuan Hotel, Beijing, located near Tiananmen Square, is two kilometers from the railway station and 28 kilometers from the airport. The hotel, which is also close to the Beijing Concert Hall, features karaoke rooms, a gym, a beauty salon and a shopping arcade.

The hotel has 91 guest rooms, including single rooms, standard rooms and superior suites. Each standard room measures 25 square meters and is equipped with air-conditioning, cable television and an IDD telephone.

The hotel's business center provides basic services and meeting rooms, with the largest room capable of holding 100 people.
Guests can enjoy a free Chinese or Western breakfast here. The hotel's Chinese restaurant serves delicious Shandong and Hong Kong dishes. The restaurant also has a banquet hall.
Taxi in Beijing and China is very cheap at less than US$0.20 per km. So, if you take a taxi from the Beijing Airport, it will cost you about $8 to $10. You don't have to pay gratuity. So, just take a taxi and the driver will get you there.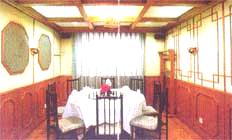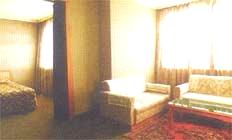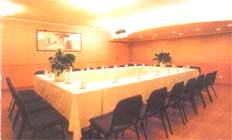 | | | | | | |
| --- | --- | --- | --- | --- | --- |
| Room Type | Normal Price | Our Price | Weekend Price | Breakfast (Y) | |
| standard room (2 beds) | USD 46 | USD 32 | USD 32,Chinese | Chinese | |
| economic room (2 beds) | USD 39 | USD 24 | USD 24,Chinese | Chinese | |
| economic triple room (3 beds) | USD 46 | USD 31 | USD 31,Chinese | Chinese | |
| single room | USD 34 | USD 27 | USD 27,Chinese | Chinese | |
| triple room | USD 58 | USD 38 | USD 38,Chinese | Chinese | |
| suite | USD 70 | USD 51 | USD 51,Chinese | Chinese | |
Room Amenities
Air-conditioning, Hot water
Cable television
IDD telephone
Property Amenities
Chinese restaurant
Meeting rooms
Restaurant
Karaoke rooms
Gym
Billiards room
Beauty salon
Shopping arcade
Hotel Services
Business center
Shopping
Acceptable Credit Cards
Peony
Transportation
0km to downtown Beijing, 5km to Beijing Railway Station, 38km to Beijing International Airport, 18km to China International Exhibition Center;
More Super Low Rate Hotels - Great 4-Star and 3-Star Hotel Rooms from $20
All in Beijing's Downtown Areas


Baita Hotel $19 standard for two

Guo Ren Hotel at $22,
$22 standard for two; $34 triple

Beijing Dabei Hotel US$27 single; US$32 double

Photo: Feng Ze Yuan Hotel $34 single, $36 standard for two; $55 triple

Zilong Hotel at $23

Dawan Hotel Wangfujing
$22 single; $35 standard for two; $48 triple

Huguosi Hotel $24 standard for two; $36 triple

Beijing Guantong Hotel
Standard for two people at $22

Beijing Golden Palace Silver Street Hotel
$33 single; $67 triple

Times Holiday Hotel
$29 single; $29 standard for two

Jinbao Hotel $31 standard for two

Beijing Xinmingji Hotel
$17 standard for two; $19 Queen; $22 triple: $28
for four

XinYanDou Hotel
$24 single; $27 standard for two

Jianyuan Hotel $24 eco; $31 eco triple; $32 standard for two