Beijing Guantong Modern Hotel
Backpacker's choice for better accommodation in downtown Beijing
The hotel was chosen by the U.S. Softball, Synchronized Swimming,
Canadian Canoeing and UK Swimming Groups during the 2008 Beijing Olympics


Star Rating:



Address: 1 W. Banbi Street, Zhushikou, Qianmen, Beijing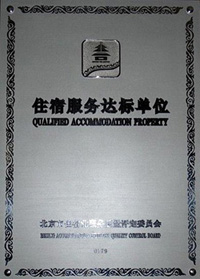 Beijing Guantong Modern Hotel is located in Qianmen and Zhushikou, the prosperous business and tourism place. The hotel enjoys ideal locations with only 10-min drive to numerous historical interest including the Forbidden City, People's Monument etc. The hotel is decorated in modern style and boasts 126 guestrooms, all of which enjoys private bathroom and air-conditioner.
The Qianmen area is famous for Beijing's oldest stores, restaurants and culture. It is by the famous Tiananmen Square. Qianmen is the best place to get cheap souvenirs. The 300-year-old Beijing

BBQ

Duck House "Quan Ju De" is located in the area, and certainly, well, the largest McDonald's restaurant is also here. Guests who were sent to Guantong Hotel were really impressed by the facility and convenience by the hotel and the surroundings.

Guantong has officially become Great Wall Adventure Club's sister hotel. Based on former guests' compliment to its location, service quality and affordable cost, Great Wall Adventure Club officially recommends Guantong to be our guests' top choice.

This hotel is comparable to Hampton Inn, La Qinta Inn or Comfort Inn in the U.S.
The right photo is the certificate of quality issued by the government.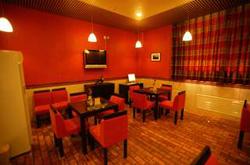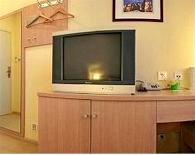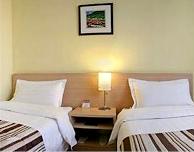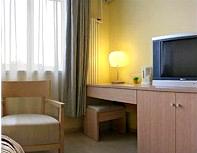 Since the following prices are special for our Club, we need to

ask you to

guarantee your reservation with a credit card

with

a small deposit from $2 or $3

per night

. When you press "Book it," you'll be transferred to our secure server to make your reservation. Thank you for your cooperation to make the price cheaper.
Room Type

Normal Price

Club Price

Deposit Now

Breakfast

standard room type

A

: T

win bed
Area:25sq.m.; Floor:1-5; Free Internet access. With air conditioner and sofa.; Twin beds/Broadband internet access (Free)
USD 42
USD 37

USD 10

N/A

standard room type

B

: T

win bed
Area:20sq.m.; Floor:1-5; Free Internet access. With air conditioner.; Twin beds/Broadband internet access (Free)
USD 36
USD 32

USD 5

N/A

standard room type C

:

King-size bed
Area:20sq.m.; Floor:1-5; Free Internet access. With air With air conditioner; King size bed/Broadband internet access (Free)
USD 36
USD 32

USD 5

N/A

standard room type D

:

King-size bed/Twin
Area:18sq.m.Non-smoking floor not available. Free Internet access. Air conditioner available.; Twin beds/Broadband internet access (Free);
USD 32
USD 26

USD 2.5

N/A





The Historical Qianmen, Beijing


Room Amenities

IDD/DDD
24 hours hot water, air conditioning
FREE high speed Internet access.
Free connection board/cord rental to convert voltage.
Property Amenities
Massage center
Hair salon

Friendly staff speaking good English

Hotel Services
Laundry
Ticketing
Business center
Transportation
0.8 km to city center, 2 kms to railway station, 26 kms to airport, 13 kms to China Expo Center.


Rate for an extra bed is ¥50 (USD 7) per night.

Price for breakfast: Buffet ¥10 (USD 1.4).

Pay at the hotel using cash or credit card. Credit cards accepted: Visa, MasterCard.

The room rate includes the service fee but excludes other hotel charges, taxes and fees resulting from special requests.

The regular time for check-in is 14:00 and the regular check-out time is 12:00 noon. If you need to check in earlier or extend your stay, the hotel may charge an extra fee. (All times shown are GMT + 8 hours.)