Mutianyu and the Great Wall Tour

Visit Our Mutianyu Private Tour (on our new site)



Visit Our Mutianyu Private Sunset Tour (on our new site)



Visit Our Mutianyu Group Tour/Bus Tour (on our new site)
In the northern part of Huairou County some 70 kilometers north-east of Beijing City, the Mutianyu (Mu Tian Yu) section of the Great Wall stretches its way for over 2 kilometers. This section is well preserved and is a good alternative for visitors who would like to avoid crowds along the highly popular Badaling (Ba Da Ling) section during holiday and peak seasons.

The construction of this section was started in the mid-6th century during China's Northern Dynasties (386 - 581) and what now remains is the main restoration made during the Ming Dynasty (1368 - 1644). It has served as a northern barrier of what is now Beijing through the ages. Connected with Juyongguan Pass in the west and Gubeikou Gateway in the east, this section was built along steep ridges and deep valleys. Differing from that part of the Great Wall more widely visited, this section is renowned for its unique fortifications.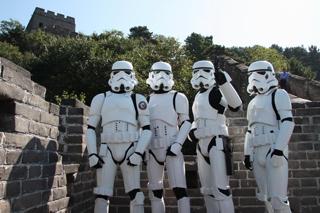 Most parts of the Great Wall have outer defensive parapets to provide cover for the soldiers and a low parapet on the inner side (called Nu Qiang) to prevent soldiers or horses from falling. (See the photos of Badaling, to see the difference) However, in this section, both the outer and inner parapets have melons, indicating its military importance. Also there is a 1000 meter long wall parallel to the main wall to enhance the defenses.

You can mount steps to climb the wall but it is physically demanding, or you can take the cable for a single trip at 35 Yuan or a round trip at 50. Former U.S. President Bill Clinton and British Prime Minister John Major had taken the Mutianyu Gondola up to the wall.

The surrounding natural environment is most attractive. Here the mountains are densely covered by verdant plants and tall ancient trees. In autumn, the maple leaves with their bright shades are truly amazing. In recent years, a garden party is usually held in autumn. Tourists can enjoy the sights of festive bonfires, performances in ancient costumes and other entertaining programs.
(Photo: 501 Legion occupied the Great Wall at Mutianyu.)
Summary of Mutianyu and Toboggan Ride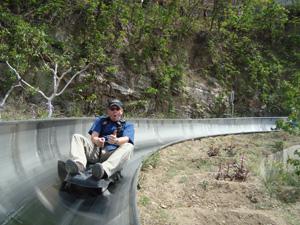 To the east of the Great Wall at Badaling and 70 kilometers from the city, Mutianyu is a restored section of the Great Wall. This three- kilometer stretch has 25 beacon towers, watch towers and lodging houses. Historically, the construction here required the largest number of laborers to construct and produced work of extremely high quality. It requires a more rigorous climb than Badaling, but the views are more striking and there are cable cars to take you to the top and even the option of an exhilarating toboggan ride back down.
Fantastic Toboggan Ride
Mutianyu also features a summer toboggan run – open hour:8am-5pm in summer. situated on tower 6, which was built and opened in 1998. The total length of the run is 1580m (5184ft). Mutianyu toboggan ride goes down a series of zigzag bends, with an altitude difference of around 100m (328ft).

Mutianyu toboggan enables riders to sit on a wheeled sled and speed down the long track. The toboggan is a favorite among kids and it is safe as well since there is a hand break for riders to control the speed of the metal toboggan ride. Carts for single and double is available so that adult can keep their child accompany during the toboggan ride. A visit to the great wall is no more tiring and wasting time with the use of Mutianyu toboggan and cable car service.

GETTING THERE


TOUR OPTION 1: Mutianyu Private Tour Details

Welcome to take our half-day private tour to Mutianyu (also can be customized to tour Ming Tombs on the way).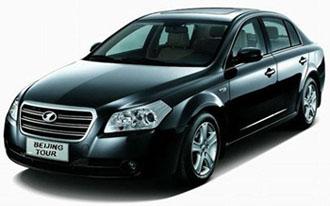 You can choose to depart in the morning at 8 AM, for example; or you can choose to drive to Mutianyu at 1:00 PM. Perfect schedule for busy business travelers to Beijing or tourists who do not want to miss the Great Wall in the last minute.

With a private tour, you'll have the freedom of touring time and schedule. It is suitable for those who want more privacy within a family or a group of friends.
Click to learn more about Mutianyu Private Tour Package.
OPTION 2: Mutianyu Bus Tour (Group Tour) Details

Program 1: Group tour to Mutianyu Great Wall and Sacred Way

Program 2: Group tour to Mutianyu with no-shopping stop

Program 3: Group tour to Mutianyu and Juyongguan sections with no-shopping stop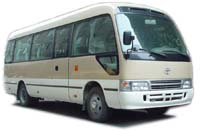 The Great Wall Adventure Club offers Daily Bus Tours to major attractions of Beijing. Our exceptional design of tour routes have been optimized for busy international tourists. At very competitive rates and with no compromise to quality, our bus tours of small group have taken over 7,500 tourists to Great Wall, Temple of Heaven, Lama Temple, Summer Palace, Ming Tombs, Forbidden City, Hutong, and newly added the 2008 Beijing Olympics sites such as the Bird's Nest and Water Cub.

This year, we have over a dozen routes and groups for your sightseeing of Beijing. Each group is about 10 people and Toyota Coaster mini-bus (capacity of 10) is the model we usually use. We also have Beijing's unique bike tours of Imperial City and old Hutong with professional guide and audio instruction to learn the beauty and amazement of Chinese tradition.