Located five miles northeast of Shanhaiguan Pass, Sandaoguan Great Wall (meaning "Three Passes Great Wall") was built to defend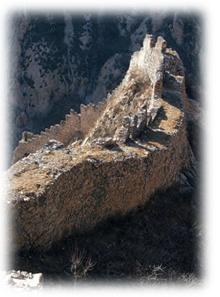 against enemy intrusions in the ancient wars. The wall was strategically important and gives the appearance of a giant dragon surging forward to the top of the cliffs and then suddenly rushing down to the bottom of the valley.
The wall was built by layering stones. It is over fifteen feet high, 6.5 feet wide and over 500 yards long. The first pass is a gully surrounded by steep cliffs; the second lies between two precipices standing face-to-face and the third pass is located high on the mountain.
It is no exaggeration to say Sandaoguan Great Wall is one of the most wondrous segments of the Great Wall. Amazingly, some segments of the wall here were built on cliffs at a 90 degree incline. It appropriately earned the nickname "The Wall Hanging Upside Down.
Let's take a tour to Sandaoguan Great Wall!

2-day Great Wall hiking from Laolongtou to Sandaoguan

BACK TO Great Wall Hiking and Tours