Badaling Great Wall Tour - private tour and bus tour
Where is Badaling located
The Great Wall section of Badaling is located at Yanqing County, more than 70 kilometers northwest from the center of Beijing City. It is a mountain pass of the Jundu Mountain. Badaling is at the highest point of north end of the Guan'gou gorge, in which the Juyongguan Pass lies. In the history,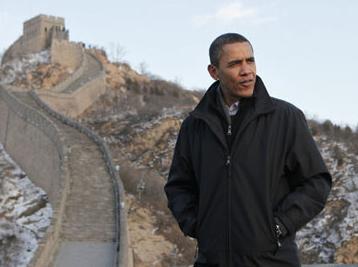 the function of Badaling was to protect the Juyongguan Pass. Along with Guan'gou gorge, there are several interests and historic sites. Badaling is a rare ancient military defense project. The elevation of it is about 1,000 meters.

The wall of Badaling has a total length of 3, 741 meters with an average height of 8 meters. The highest part is 15 meters. The total area for a tour is 19, 000 square meters. The top of the wall can permit five horses to be ridden abreast. There are arched doors at the inner side of the wall with very little distance between each two doors. The arched doors lead you to the top of the wall by stone stairs.
How Was Badaling Built

The wall is narrow on the top and broad on the base making the wall stands firmly rising and falling ridges. The wall was made with huge stones. Inside the Wall are made of mud and stone block. This makes the wall clean, pretty, and firm. Every other 300 to 500 meters, there are fortresses. There are two kinds of fortresses. One is a two-storied fortress used as a fighting tower. Its ground floor was used for living, storing weapons and the top floor was used for watching and shooting. Another kind is fighting terrace or enemy terrace, which was used for patrolling and fighting.
Badaling Open to Tourists - Badaling Tours
Badaling was the earliest section to be open to the tourists among all the parts of the whole Great Wall. 130 million tourists from China and abroad have visited Badaling; 370 foreign leaders and very important persons have come to climb Badaling successively. Great Wall Adventure Club provide convenience to take you to Badaling section for one-day trip.
The portion of the wall at Badaling has undergone heavy restoration, and in 1957 it was the first section of the wall to open to tourists. Now visited annually by millions, the immediate area has seen significant development, including hotels, restaurants, and a cable car. The recently completed Badaling Expressway connects Badaling with Beijing city.
Near Badaling, there is a large-scaled Great-Wall-of-China Museum as well as the Great Wall National Theater from which you can get a full and complete view of the Great Wall. In 1961, the State Council decided that Badaling was a national key protected culture relic unit. In 1987, Badaling Great Wall became World Cultural heritage by the United Nation.
World Leaders on Badaling
U.S. President Barack Obama had a tour to Badaling Great Wall on November 18, 2009 to end his trip to China.
"It's magical," Obama said when walking along the Great Wall in chilly winter wind. "It reminds you of the sweep of history and our time here on earth is not that long. We better make the best of it."
Dressed in a dark winter jacket, a smiling Obama broke away from companions and walked alone along the ramp. "I'm inspired by the majesty of the Great Wall and am grateful for the warmth of the Chinese people," Obama wrote on the visitor's book after his half-hour tour.
"I brought back the admiration for the Chinese civilization, I bring here the greetings of American People," Obama said when ascending a watchtower to enjoy a distant view at the Badaling section of the Great Wall.
Obama is the fifth U.S. president to visit the manmade wonder. Former U.S. President Richard Nixon visited the Great Wall in 1972,Ronald Reagan in 1984 and Bill Clinton in 1998. In 2002, former U.S. President George W. Bush and his wife Laura toured the same section as Obama did.
Bus Tour to Badaling & Mutianyu

Welcome to take our bus tour to Badaling Great Wall.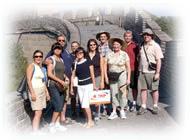 The Great Wall Adventure Club offers Daily Bus Tours to major attractions of Beijing. Our exceptional design of tour routes have been optimized for busy international tourists. At very competitive rates and with no compromise to quality, our bus tours of small group have taken over 7,000 tourists to Great Wall (at Badaling, Mutianyu, Jinshanling, Simatai, Gubeikou), Temple of Heaven, Lama Temple, Summer Palace, Ming Tombs, Forbidden City, Hutong, and newly added the 2008 Beijing Olympics sites such as the Bird's Nest and Water Cub.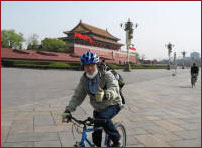 In 2009, we have the following routes and groups for your sightseeing of Beijing (Price Chinese RMB per person). Each group is about 10 people and Toyota Coaster mini-bus (capacity of 10) is the model we usually use. We also have Beijing's unique bike tours of Imperial City and old Hutong with professional guide and audio instruction to learn the beauty and amazement of Chinese tradition.
Badaling Tour Fees and Time
Entrance Fees: RMB40 (Nov. 1 to Mar. 31); RMB 45 (Apr. 1 to Oct. 31)
Opening Hours: 06:40 to 18:30
Hiking Time: Two and a half hours

Compare to our bus tour to Mutianyu Great Wall.