Simatai will remain closed for hiking
It has been brought to our attention that some tour companies and travel books are claiming that the Simatai Great Wall is still open for hiking. However, in order to avoid any disappointment or wasted money and time, please be advised that THE SIMATAI GREAT WALL HAS BEEN PERMANENTLY CLOSED TO HIKERS, AND ANY ORGANIZATIONS CLAIMING OTHERWISE ARE DELIBERATELY MISLEADING YOU. We are posting this because we want you to know the whole truth, that way you can make an informed decision on your travel plans based on all of the available information. Thank you for your continued patience and understanding!
Simatai section of the Great Wall is closed for renovation from June 17, 2010. This is a very short notice from Miyun Government and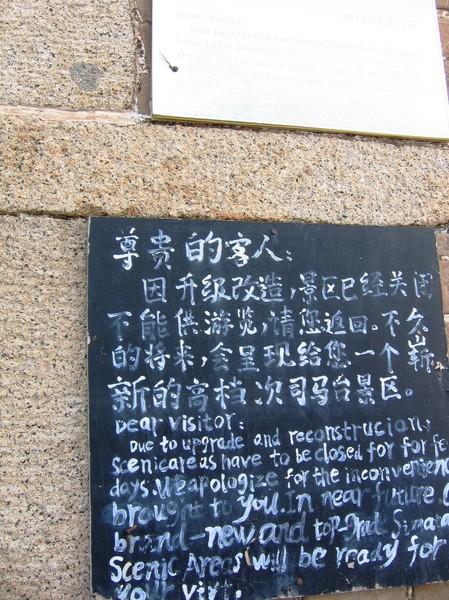 Simatai Authority regarding the repair and renovation. Recently, from our internal source with the company who has been doing construction in Simatai, we were told the Simatai Section of the Great Wall will reopen in October 2014. However, we found from our inspection that Simatai will get closed from being accessible from Jinshanling. Our hiking cannot be resumed. And, opening only 10 watch tower is meaningless for a hike and you will NOT experience what Simatai should be experienced at all.

June 13, 2014 Update

Unfortunately, we are sad to report that the Simatai Section of the Great Wall will not be fully accessible from Jinshanling, from where many people have hiked. The re-development of Simatai as a "watertown" means that no one will be able to hike from Jinshanling to Simatai, and that visits to Jinsahnling and Simatai must be conducted separately. As of now, we are unsure of when the new Simatai will open, but when it does we will be leading tour and excursions there. And as always, you can still hike with us at Jinshanling and from the Gubeikou Great Wall to the Jinshanling Great Wall. We thank you for continued patience and understanding in dealing with the Simatai closure!

March 25, 2014 Update

We have some unfortunate news in regards to the Simatai Great Wall. It seems the developer in charge of renovating Simatai has instead purchased the

Simatai

property only to focus on building a Suzhou-style watertown called "Gubei Watertown". While building this watertown, the developer has neglected in doing much for Simatai, and as of now, 10 watchtowers of the Simatai Great Wall are open to the public. We asked the developer's spokesman about any future Simatai openings, and the spokesman replied that they had no idea about any future openings.

However, do not despair! We are still planning on leading special tours and hikes to Simatai and the "Gubei Watertown" to satisfy your Great Wall thirst. It will most likely be a day tour (morning tour of the watertown, and after lunch, a 90 minute hike through the 10 Simatai watchtowers open to the public). We are planning on launching this special tour in April. We thank you for continued patience and understanding in dealing with the Simatai closure!

March 1, 2014 Update

According to the latest whispers, Simatai will continue to be isolated from Jinshanling for the foreseeable future. The reason is that developers working on Simatai wish to turn it into a convention and commercial center with a "watertown"-style theme. To protect their investment the developers of the Simatai project continue to block access from Jinshanling, so that they will be the only ones able to charge for admission.

Some small and improperly licensed agents may try to sneak customers intoSimatai from an unofficial "backdoor" at Jinshanling and claim that you are allowed to hike through. This is both incredibly risky and also illegal. If you are caught, you'll either be fined or reported to the police. Second, most try to sneak into Simatai at night. Once dark, this piece of Great Wall is incredibly dangerous to hike, and if you are hurt or injured there will be no one to help or assist you.

What this means for you is that you will be unable to cross over into Simatai from Jinshanling. In the future, when Siamatai is officially reopened (the opening date is still just a rumor at this point), we should be able to open a special route to visit Simatai only. However, we will still be running our modified Jinshanling and Gubeikou programs programs to make up for the loss of access to Siamatai, so you'll still get the same Great Wall bang for your buck. For more updates on our Simatai programs please continue to check back at this space. We thank you for your patience and understanding!

October 28, 2013 Update: According to our inside sources, the Simatai portion of the Great Wall is due to open on October 28. Yes, it was opened on the 28th. However, it got shut down just in a couple of days. We were told this section will officially reopen on May 1, 2014.

This means that once again we will have to wait until May 2014 to offer our most famous and popular Great Wall program, the Jinshanling-Simatai hike, as well as a whole assortment of Simatai-related Great Wall treks. We have also heard that the entrance ticket to Simatai will be 280RMB (about $45), while this price may seem high, we are still working to confirm if this is indeed the truth. Please look back to this space for more news and updates on the Simatai Great Wall reopening.

As you may well be aware, many government projects in China are secretive and information is not readily available to the public, leading us only to hypothesize based on the scraps and bits of information we have received. The Simatai project has been done to meet the interest of certain interest groups, and not to the greater public at large. The Simatai project was undertaken not for the improvement of visitors like yourself, but for a better atmosphere for conferences and conventions (which is why a 5-star hotel has been recently built near there). There has been no public announcement about the official re-opening date as of yet, nor do we know what the entrance price for the re-opened Simatai will be. However, once we learn of the official re-opening date, we will be sure to let you all know, and we'll get hiking and trekking tours to Simatai as soon as it is humanly possible. We thank you for your understanding and cooperation!

TOUR 1A: Jinshanling to Simatai. One-day hiking tour. (Open to register now!)

TOUR 2A: Gubeikou to Jinshanling, and Jinshanling to Simatai. Two-day overnight hiking tour.

The Simatai Great Wall has been closed for close to two years, but our sources tell us that Simatai may reopen in October 1, 2013. Please keep in mind that this is an educated guess on our sources part, and may not be accurate. As you are surely aware, China's system of government is very different from those in Western countries. There is no public debate about construction projects, and there are no public announcements regarding them. Those that make the key decisions are done so by the few who are in power. The ones that decide to undertake these construction projects do not have anyone consult them on the pros and cons, and often initiate these projects in the expectation that it will increase their own personal wealth.

While there are just rumors floating around, we hear that the new Simatai Great Wall will feature a five-star hotel, a horse racing track, and a Suzhou or Zhouzhuang (Suzhou's suburb)-style canal town called Gubeishui (Gubei Watertown).

Great Wall Adventure Club will keep updating the progress of Simatai construction and post on this page! Please bookmark this page!

However do not despair, because we will continue to take you on outstanding hikes on nearby Great Wall sections like Jinshanling, Gubeikou, Jiankou, and Huanghuacheng. These incredibly photogenic sections of Great Wall are a great spot for a Great Wall hike, and are suitable for most ages. As Simatai is closed for construction, the hike from Jiankou to Mutianyu has grown in popularity, and encompasses many things you would see on the Jinshanling-Simatai hike. Like Jinshanling-Simatai, Jiankou-Mutianyu combines rugged and unrestored Great Wall with classically restored brickwork and watchtowers. If you were looking to hike Jinshanling-Simatai, Jiankou-Mutianyu would be a seamless substitute.

The following is about Simatai:

The Simatai section of the Great Wall is situated at Gubeikou, 120 kilometers northeast of Beijing. First built in 1368 during the reign of Emperor Hongwu of the Ming dynasty (1368-1644), it is one of the best-preserved sections of Ming Dynasty Great Wall. An incredible section characterized by delicate and unique designs and diversified structures, it incorporates a variety of styles from the other parts of the Great Wall and is thus reputed as a verifiable "Museum of the Great Wall."

Zigzagging along steep mountain ranges, this section of the Great Wall features precipitous areas, which is reflected by the name of its two parts – the Heavenly Stairway and the Heavenly Bridge. The Heavenly Stairway is a narrow section with a single wall, whose narrowest part is less than half a meter wide. The section mounts like a stairway along the mountainside. On the both sides are steep and hazardous cliffs, and you would certainly gasp if you looked down. The Heavenly Bridge, 100 meters in length and some 40 centimeters in width, is situated on the top of the Heavenly Stairway. Cliffs on both sides of the Heavenly Bridge appear to be even more breathtaking. "It is hard to climb on to the Heavenly Bridge – even harder than mounting onto the sky," lament most of Simatai's visitors. The parts of Simatai that are too dangerous to travail are closed to tourists, and the section that is open to public is generally accessible to hikers of all ages. After over a year of repairs and renovations, the Simatai Great Wall will reopen this October.

The walls and watchtowers of the Simatai section of the Great Wall exhibit a unique design along with varied architectural styles, which you will see one it reopens later this year. One characteristic of this section is its densely-dispersed watchtowers, which total 35 watchtowers on the wall with 5.4 kilometers in length. You'll have the opportunity to explore these watchtowers in October, when Simatai will reopen after a period of repairs and maintenance. The nearest distance between two watchtowers is 43.8 meters and the farthest distance between two watchtowers is 600 meters, with the average distance being 100 to 200 meters. In fact, according to records of the walls built during the Ming Dynasty, the interval between every two watchtowers should be 500 meters.

However, the Simatai Great Wall is an exception. In terms of appearance, some watchtowers have only one single window, while others have two, three four or five windows. Some are one-story structures, and there are also interconnected two or three-story watchtowers. Varying in size and appearance, they were constructed based on the rank and amount of stationed troops, as well as geographical conditions. In terms of the interior structures, some watchtowers are built with bricks, and others are brick and wooden structures or brick and stone structures. The watchtowers accommodate one or more chambers and the patterns of the rooms are based on the Chinese characters for "field" and "well". Their roofs are different in design, with plain roofs, hollow roofs, octagonal painted roofs and reversed-container-shaped roofs. Their gates and windows are also intricately designed, among which include side gates, central gates, brick arches, stone arches and even carved granite gates featuring superb craftsmanship. All of these make Simatai a unique section of the Great Wall, thus its rapid rise in popularity with visitors. This section's popularity will only increase after Simatai is reopened to the public in summer, 2013.

The Simatai Great Wall is also noted for its magnificent but perilous topography, which will be open to hikers again once Simatai is again accessible in October. In addition, Mandarin Duck Lake at the foot of the Simatai Great Wall gives this section some spirit. The lake is where the hot and cold springs meet, so half of its water is warm and the other half is cold. The water never freezes. In scorching summer, boating on the lake is an ideal way to escape from the summer heat. Besides picturesque landscapes, this section of the Great Wall is also a treasure trove of historical and cultural heritages. In recent years, many historical relics have been unearthed here, including the iron cannons, stone cannons, iron arrowheads, iron guns, grenades, tri-tube guns, iron bullets and powder scoops used by the troops stationed there, as well as such living appliances and tools as hoes, shovels, kitchen knives and iron lamp bowls. These relics are invaluable materials for researching the Ming-era Great Wall and the history of the dynasty.

"The Great Wall is unmatched around the world," said Luo Zhewen, a renowned specialist in research of the Great Wall, "and the Simatai section is unmatched among all sections of the Great Wall." After a period of renovation, the Simatai Great Wall will reopen in Summer 2013.

Alternative Tours to Simatai West, Jinshanling and Gubeikou

However, if you want to experience wild and unrestored Great Wall than our hiking programs at Jiankou (Hiking Route 1B) serve as a perfect substitute, as this section has become increasingly popular due to its photogenic vistas and secluded nature. In keeping with our love of the wild Great Wall we have also developed other routes to some lesser-known sections, which you can find on our Great Wall hiking programs page. If you still would like to see Jinshanling, please see Route 1AA Gubeikou-Jinshanling, We also can take you to West Simatai to look at Simatai from a distance. The route is 1AB that takes you three hours to hike from Jinshanling to West Simatai.



Tour to Simatai and Hike in Simatai

You can join our private tour to Simatai or a bus tour to Simatai, and even better, a hiking from Jinshanling to Simatai.

Join Our Great Wall hiking Today!