Shanghai Hotels at Discount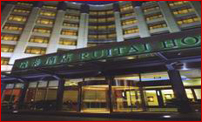 Photo:
Shanghai Ruitai Hongqiao Hotel

HOT





USD61


Photo:
Salvo Hotel Shanghai (by the Bund)
HOT






USD84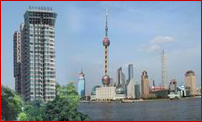 Photo: Hengsheng Peninsula International Hotel





USD56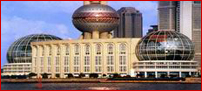 Photo: Shanghai International
Convention Center Hotel






USD132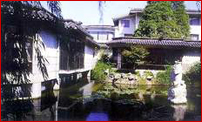 Photo: Xin Yuan Hotel Shanghai




USD48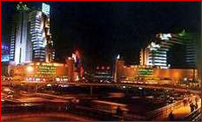 Photo: Holiday Inn Downtown Shanghai





USD85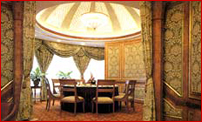 Photo: Park Hotel Shanghai





USD81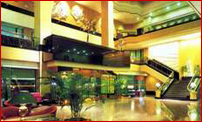 Photo: Radisson Sas Lansheng Shanghai





USD92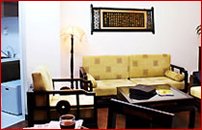 Photo: Greenland Haiyue Apartment
Business Hotel





USD 26
Complete list of hotels in Shanghai from 5-star to 2-star
2--Star Hotels List 2
Shanghai Discount Hotels, Hostels

Shanghai is well known both at home and from abroad not only as prosperous metropolis with rich cultural resources, but also for a number of new tourist attractions that have been developed in recent years.

Shanghai, the most notorious of Chinese cities, once known as the Paris of the East, now calls itself the Pearl of the Orient. No other city can better capture the urgency and excitement of China's economic reform, understandably because Shanghai is at the center of it.

A port city, lying at the mouth of Asia's longest and most important river, Shanghai is famous as a place where internationalism has thrived. Opened to the world as a treaty port in 1842, Shanghai for decades was not one city but a divided territory. The British, French, and Americans each claimed their own concessions, neighborhoods where their laws and culture -- rather than China's -- were the rule.

Below are just a list of our featured hotels. We also include a full list of Shanghai hotels and prices.







5-Star Hotels List





4--Star Hotels List 1 | 4--Star Hotels List 2




3--Star Hotels List 1 | 3--Star Hotels List 2 | 3--Star Hotels List 3



2--Star Hotels List 1 | 2--Star Hotels List 2
What about

+

?
Please consider our Shanghai sightseeing packages that include great accommodation and local tours.
We also have China vacation packages from Shanghai to Xian, Guilin, Hangzhou, Lijiang, Tibet, Chongqing and Hong Kong.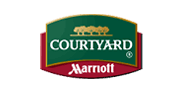 Shanghai Courtyard Xujiahui Hotel by Marriott OUR BEST PICK!
Shanghai New International Expo Center Century Hotel for exhibition and event attendants.

Salvo Hotel Shanghai (by the Bund) HOT
Map of this hotel
USD84
Hua Ting Hotel Towers
USD118
Howard Johnson Plaza Hotel
USD137
Hengshan Hotel
USD80

City Hotel Shanghai

USD79

Qing Zhi Lu Hotel

USD35

Pudong Hotel

USD46

Shanghai International Convention Center Hotel
(by the Bund in Pudong)

USD132

The Shanghai Barony Wanyuan Hotel

USD47

Rendevous Merry Hotel Shanghai

USD89

The Westin Shanghai

USD166

Shanghai Eastlake Hotel

USD70

Hengsheng Peninsula International Hotel

USD56

Hyatt Shanghai (by the Bund in Pudong, the highest
hotel in the world)

USD259

Sheraton Grand Pacific Hotel

USD190

Hotel Inter-continental Pudong

USD182
| | | | |
| --- | --- | --- | --- |
| Summit Service Apartments | | | USD48 |
| Galaxy Hotel Shanghai | | | USD85 |
| Rainbow Hotel Shanghai | | | USD85 |
| Shanghai Hotel | | | USD80 |
| Zhongya Hotel Shanghai | | | USD39 |
| New Asia Hotel | | | USD42 |
| Shanghai Huaying Textile Building Hotel | | | USD28 |
| Y.M.C.A. Hotel | | | USD41 |
| Shanghai Chuangye Hotel | | | USD26 |
| The Portman Ritz-carlton Shanghai | | | USD218 |
| Howard Johnson Allsuites Hotel | | | USD73 |
| Dazhong Merrylin Hotel | | | USD61 |
| Ramada Plaza Shanghai | | | USD105 |
| Oasis Tower Shanghai | | | USD36 |
| Tongmao Hotel | | | USD61 |
| Green Garden Hotel Shanghai | | | USD65 |
| | | | |
| --- | --- | --- | --- |
| Shanghai Yanan Hotel | | | USD40 |
| Jiulong Hotel Shanghai | | | USD45 |
| Motel Anyuan Inn Shanghai | | | USD20 |
| Xinyuan Hotel Shanghai | | | USD48 |
| Bailemen Hotel Shanghai | | | USD51 |
| Purple Mountain Hotel | | | USD114 |
| Grand Youyou Hotel | | | USD36 |
| Supreme Tower Hotel-Service Apartment | | | USD84 |
| Jianguo Hotel Shanghai | | | USD109 |
| Hotel Zhongyou International Shanghai | | | USD91 |
| Everbright Exhibition Center Grand Hotel | | | USD59 |
| Shanghai Hope Hotel | | | USD40 |
| Shanghai Shangfu Dadi Holiday Hotel | | | USD28 |
| Zhong Dian Hotel | | | USD46 |
| XinJinQiao Motel Shanghai | | | USD20 |
| 88 Xintiandi Shanghai | | | USD225 |
| | | | |
| --- | --- | --- | --- |
| Pudong Shangri-la | | | USD175 |
| Garden Hotel Shanghai | | | USD182 |
| Shanghai Four Seasons Hotel | | | USD294 |
| Rui Tai Hotel | | | USD61 |
| Radisson Plaza Xing Guo Hotel | | | USD186 |
| Jinjiang Tower Shanghai | | | USD120 |
| Regal International East Asia Hotel | | | USD175 |
| Xi Jiao Guesthouse Shanghai | | | USD131 |
| Shanghai Jc Mandarin | | | USD160 |
| Sofitel Jinjiang Oriental Pudong | | | USD116 |
| Hong Qiao State Guest House Shanghai | | | USD116 |
| East China Hotel | | | USD40 |
| Banker's Club | | | USD141 |
| The Ascott Pudong Shanghai | | | USD146 |
| Ramada Plaza Pudong-Shanghai | | | USD96 |
| St.regis Shanghai | | | USD203 |
| | | | |
| --- | --- | --- | --- |
| Shanghai Jing An Hotel | | | USD48 |
| Shanghai Shen Garden Hotel | | | USD61 |
| Holiday Inn Downtown Shanghai | | | USD85 |
| Magnificent International Hotel | | | USD48 |
| The Bund Hotel | | | USD81 |
| Riverside Hotel Shanghai | | | USD51 |
| Xing Yu Hotel | | | USD53 |
| Baolong Hotel Shanghai | | | USD55 |
| Shanghai Jiangong Jinjiang Hotel | | | USD59 |
| Tian Ping Hotel | | | USD53 |
| Jiangsu Hotel | | | USD42 |
| Shanghai Tiancheng Hotel | | | USD67 |
| Shanghai Park Hotel | | | USD81 |
| Panorama Century Court Shanghai | | | USD76 |
| Radisson Sas Lansheng Hotel Shanghai | | | USD68 |
| Sofitel Hyland Shanghai | | | USD116 |