Great Wall Adventure Club runs private tours and group tours to Jinshanling section of the Great Wall and beyond.
But first, let's see who have successfully completed their hiking and become our Hall of Famers!
Jinshanling Great Wall Overview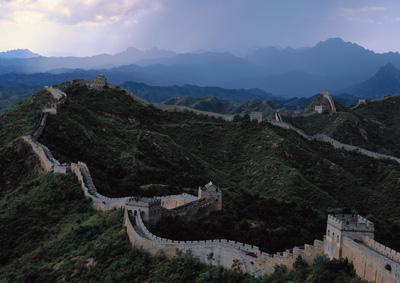 Jinshanling is the start of the classic Great Wall hike to Simatai that Great Wall Adventure Club has guided to thousands of international travelers and adventurers. Often this hike is a foreign hiker's first introduction to the Great Wall, so get off on the right foot with Great Wall Adventure Club. If you are daring enough to finish the hike, you will earn a spot on our hallowed Hall of Fame!

Jinshanling Great Wall is located in Luanping County of Chengde, Hebei Province, and borders on Miyun County of Beijing Municipality. It is 130 kms away from Beijing. Jinshanling Great Wall was builit in 1567-1586 when Qi Jiguang, a famous general in Ming Dynasty, acted as the head of military force in Ji Town. It is typical in structure and is famous for its broad field of vision, dense guard towers, unique landscape, elegant architecture, complete military defense system and excellent state of preservation. It is an exemplary section of the Great Wall and hence comes the saying that Jinshan section is the most quintessential of the 10,000-li Great Wall.
Jinshangling Great Wall got its name because it was built on the bigger and the smaller Jinshan Mountains. The Wall starts from Longyukou in the west and ends at the Wangjinglou Tower in the east and stretches about 10.5 kms. You can see parapets, kylin screen walls, literal bricks and wall made of literal bricks in Jinshanling.
Jinshanling was listed as one of the world cultural heritage sites in 1987. It is also one of the AAAA-grade national tourist attractions of China.
Jinshanling has now been closed for a major improvement project and hopefully will reopen before May 1, 2018.
What Can You Discover at Jinshanling in a Particular Season?
Jinshanling
in Spring
When spring comes, the spring breeze brings warmth; the trees and grass have just turn green; flowers blossom and add radiance and beauty to each other, which present a unique landscape. Jinshanling is an ideal place to take an outing in spring. .

Jinshanling in Summer
Jinshanling is beautiful in summer with row upon row of green woods on rolling hills, colorful rainbows, soughing of the win in pines and babbling brook. If you are lucky enough, you can also see the distinctive sea of cloud over Jinshanling.
Jinshanling in Fall
Jinshanling is beautiful and magnificent in fall with clear sky, crisp air and hills on hills all in red.
Jinshanling in Winter
Jinshanling looks solemn in winter. The Great Wall, however, loos more charming in snnow, as if a bride in wedding garment.

History of Jinshanling:
The Jinshanling Great Wall was initially built from 1368 to 1389 in the Ming Dynasty, and in 1567 or 1570 rebuilding of the Wall was mainly directed by General Qi Jiguang. Poems and tablet writings can be found on the Jinshanling Great Wall left from the time Qi Jiguang directed building of this section of the Great Wall.
In 1992, Mr. Ko Sau-leung jumped over the Great Wall in motorbike in the west terrace of crenel of Jinshanling section. His motorbike jumped 32 meters.

Features of the Jinshanling Great Wall:
The total length of this section is about eleven kilometers (6.8 miles), and the scenic spot of the Jinshanling Great Wall has an area of 32 square kilometers. The Wall is about seven to eight meters high and five to six meters wide, which is made of brick and stone. The Jinshanling Great Wall has an elevation of 700 meters. Watching Beijing Tower is on the highest position, from which you can see Beijing. The Jinshanling Great Wall is second only to the Badaling Great Wall in its completeness.

There are more than 100 enemy towers along the whole Jinshanling Great Wall. Built stably and elegantly, different towers have different structures and appearances. Rows of 3-meter-high Barrier Walls were built leading to the enemy towers to protect the towers. Some of the towers are storerooms as well. They were used to store food, hay and weapons.

Two of so many enemy towers are bigger Jinshan and smaller Jinshan. There is a legend about them. It was said that the two towers were built by 3000 soldiers from the Jiangsu and Zhejiang Provinces led northward by Qi Jiguang. In order to remind themselves of their hometowns, the names of bigger and smaller Jinshan Islands in Zhenjiang City, which is in Jiangsu Province, were used to name the two enemy towers.

As there are relatively few tourists at Jinshanling Great Wall, it is a good place to explore on foot.

In early mornings of spring and summer you can see a remarkable view - "Cloud Sea" below you from the Wall.
Jinshanling Photography
Chinese famous photographer for Great Wall Mr. Duan Jiujun is Great Wall Adventure Club's partner. He's going to have his first Website locate at www.greatwalladventure.com.
Tour to Jinshanling and Hike in Jinshanling

The Jinshanling Great Wall has never been repaired. You are safer when you visit this section of the Great Wall than other parts. It is safer as the service in this section of Great Wall includes that one tour guide is responsible for one tourist, for his/her safety actually. When needed, the tour guides will go hand in hand to protect the tourists.

An 800-meter long cable was built to entertain the tourists. Also a 3-kilometer section of the Wall was rebuilt and is bathed after dark in colored light, making a splendid "Night Great Wall".
You can join our private tour to Jinshanling or a bus tour to Jinshanling with the opportunity to hike to Simatai.
Map of Jinshanling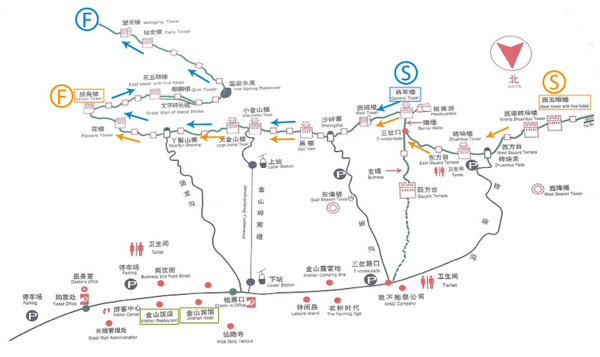 Join Us Today!