It has been brought to our attention that some tour companies and travel books are claiming that the Simatai Great Wall is still open for hiking. However, in order to avoid any disappointment or wasted money and time, please be advised that THE SIMATAI GREAT WALL HAS BEEN PERMANENTLY CLOSED TO HIKERS, AND ANY ORGANIZATIONS CLAIMING OTHERWISE ARE DELIBERATELY MISLEADING YOU. We are posting this because we want you to know the whole truth, that way you can make an informed decision on your travel plans based on all of the available information. Thank you for your continued patience and understanding!
Simatai section of the Great Wall is closed for renovation from June 17, 2010. This is a very short notice from Miyun Government and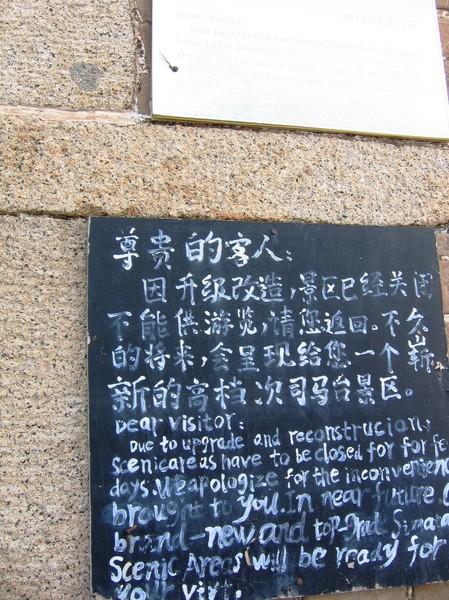 Simatai Authority regarding the repair and renovation. Recently, from our internal source with the company who has been doing construction in Simatai, we were told the Simatai Section of the Great Wall will reopen in October 2014. However, we found from our inspection that Simatai will get closed from being accessible from Jinshanling. Our hiking cannot be resumed. And, opening only 10 watch tower is meaningless for a hike and you will NOT experience what Simatai should be experienced at all.

June 13, 2014 Update

Unfortunately, we are sad to report that the Simatai Section of the Great Wall will not be fully accessible from Jinshanling, from where many people have hiked. The re-development of Simatai as a "watertown" means that no one will be able to hike from Jinshanling to Simatai, and that visits to Jinsahnling and Simatai must be conducted separately. As of now, we are unsure of when the new Simatai will open, but when it does we will be leading tour and excursions there. And as always, you can still hike with us at Jinshanling and from the Gubeikou Great Wall to the Jinshanling Great Wall. We thank you for continued patience and understanding in dealing with the Simatai closure!

March 25, 2014 Update

We have some unfortunate news in regards to the Simatai Great Wall. It seems the developer in charge of renovating Simatai has instead purchased the S

Simata

i property only to focus on building a Suzhou-style watertown called "Gubei Watertown". While building this watertown, the developer has neglected in doing much for Simatai, and as of now, 10 watchtowers of the Simatai Great Wall are open to the public. We asked the developer's spokesman about any future Simatai openings, and the spokesman replied that they had no idea about any future openings.

However, do not despair! We are still planning on leading special tours and hikes to Simatai and the "Gubei Watertown" to satisfy your Great Wall thirst. It will most likely be a day tour (morning tour of the watertown, and after lunch, a 90 minute hike through the 10 Simatai watchtowers open to the public). We are planning on launching this special tour in April. We thank you for continued patience and understanding in dealing with the Simatai closure!

March 1, 2014 Update

According to the latest whispers, Simatai will continue to be isolated from Jinshanling for the foreseeable future. The reason is that developers working on Simatai wish to turn it into a convention and commercial center with a "watertown"-style theme. To protect their investment the developers of the Simatai project continue to block access from Jinshanling, so that they will be the only ones able to charge for admission.

Some small and improperly licensed agents may try to sneak customers into Simatai from an unofficial "backdoor" at Jinshanling and claim that you are allowed to hike through. This is both incredibly risky and also illegal. If you are caught, you'll either be fined or reported to the police. Second, most try to sneak into Simatai at night. Once dark, this piece of Great Wall is incredibly dangerous to hike, and if you are hurt or injured there will be no one to help or assist you.

What this means for you is that you will be unable to cross over into Simatai from Jinshanling. In the future, when Siamatai is officially reopened (the opening date is still just a rumor at this point), we should be able to open a special route to visit Simatai only. However, we will still be running our modified Jinshanling and Gubeikou programs programs to make up for the loss of access to Siamatai, so you'll still get the same Great Wall bang for your buck. For more updates on our Simatai programs please continue to check back at this space. We thank you for your patience and understanding!

October 28, 2013 Update: According to our inside sources, the Simatai portion of the Great Wall is due to open on October 28. Yes, it was opened today. However, it will get shut down in a couple of days and reopen on May 1, 2014.

This means that once again we will have to wait until May 2014 to offer our most famous and popular Great Wall program, the Jinshanling-Simatai hike, as well as a whole assortment of Simatai-related Great Wall treks. We have also heard that the entrance ticket to Simatai will be 280RMB (about $45), while this price may seem high, we are still working to confirm if this is indeed the truth. Please look back to this space for more news and updates on the Simatai Great Wall reopening.

As you may well be aware, many government projects in China are secretive and information is not readily available to the public, leading us only to hypothesize based on the scraps and bits of information we have received. The Simatai project has been done to meet the interest of certain interest groups, and not to the greater public at large. The Simatai project was undertaken not for the improvement of visitors like yourself, but for a better atmosphere for conferences and conventions (which is why a 5-star hotel has been recently built near there). There has been no public announcement about the official re-opening date as of yet, nor do we know what the entrance price for the re-opened Simatai will be. However, once we learn of the official re-opening date, we will be sure to let you all know, and we'll get hiking and trekking tours to Simatai as soon as it is humanly possible. We thank you for your understanding and cooperation!

We have to continuously put the following programs on hold.

TOUR 1A: Jinshanling to Simatai. One-day hiking tour.

TOUR 2A: Gubeikou to Jinshanling, and Jinshanling to Simatai. Two-day overnight hiking tour.

The Simatai Great Wall is often described with the following three words: perilous, diverse, and peculiar. The Simatai Great Wall is also known as the "Wild Great Wall", meaning a section that has not been restored. Much of the section is in a state of ruin with exposed bricks and incomplete structures and the walls that go along precipitous jagged ridges have mostly fallen down.

Recently, many news outlets have reported that much of the Simatai Great Wall has been closed due to renovation and maintenance repair. While this is an inconvenience for all visitors, we understand that the work is done to improve the safety standards of the section, with the improvement also keeping in mind the Great Wall's environmental impact on its surroundings. Great Wall Adventure Club fully supports the cause of these two vital issues, and the work to make improvements to Simatai. While the Simatai Great Wall tour may be momentarily closed, fret not, for Great Wall Adventure Club is still continuing our Jinshanling Great Wall hike and tour, which is a great opportunity to see majestic watchtowers and real "Wild Wall". The Jinshanling hike will start from the same location as the previous Jinshanling-Simatai Great Wall hike, but in the middle of your hike you will be diverted to another point on the Great Wall, thereby passing the maintenance and improvement work on Simatai.

In addition to our revamped Jinshanling Great Wall hike, we also offer outings to other wild sections of the Great Wall, which will make up for the momentary closure of the Simatai Great Wall hike. Our newest Great Wall hiking program is from the Jiankou-Mutianyu, which like our Simatai hike, is easily within driving distance from Beijing. This private tour comes with your own driver and guide, who will accompany you during your hike, ensuring your safety and comfort. The Jiankou-Mutianyu Great Wall hike is a great way to see dramatic Great Wall ruins and peaks while also experiencing classically restored brick and watchtowers. Starting from Jiankou, you'll trek over ruined paths and bricks, with passing unrestored watchtowers along the way. About halfway, you'll come to Mutianyu, which, in many ways, is similar to Jinshanling in that it is tastefully restored but not touristy at all. Here is some more information about the Great Wall at both Jiankou and Mutianyu:

Jiankou

Jiankou translate from Chinese to English is 'arrow nock'. Jiankou Great Wall is named after its peculiar shape, which likes a bended bow with intangible arrow ready to be released to the target. Jiankou Great Wall is going to be the focus of hiking and photography enthusiast. Unlike the Mutianyu Great Wall in its east and Huanghuacheng Great Wall in its west, Jiankou Great Wall with more twists and turns wriggles up to the high mountain ridge retains in the natural state without any restoration and reveals the beauties of imperfection, wildness and primitive simplicity. Thus it is regarded as the most precipitous and picturesque section of the Great Wall built in Ming Dynasty (1368 - 1644).

Mutianyu

The Mutianyu Great Wall winds 1.4 miles through lofty mountains and high ridges, many sections of which are made of granite. The unique structure makes the wall almost indestructible. There are 22 watch towers distributed at close intervals along the wall. They are located not only in the main wall but also at the distinctive 'branch cities'. Branch cities are built on the hill ridge against the inner or outer side of the wall. They measure from several yards to dozens of yards across. On the northwest over 3,281-feet hills, lies a section of the wall called 'Ox Horn Edge'. On the steep and lofty peaks, there are two walls named 'Flying Eagle Flies Facing Upward' and 'Arrow Lock'.

Along with Jiankou, we also offer programs to other "Wild Wall" sections like Huanghuacheng, Xishuiyu, Lianhuachi, and much more. For a Great Wall thrill of a lifetime contact our travel specialists today!

Tour to Simatai and Hike in Simatai

You can join our private tour to Simatai or a bus tour to Simatai, and even better, a hiking from Jinshanling to Simatai.

Join Us Today!